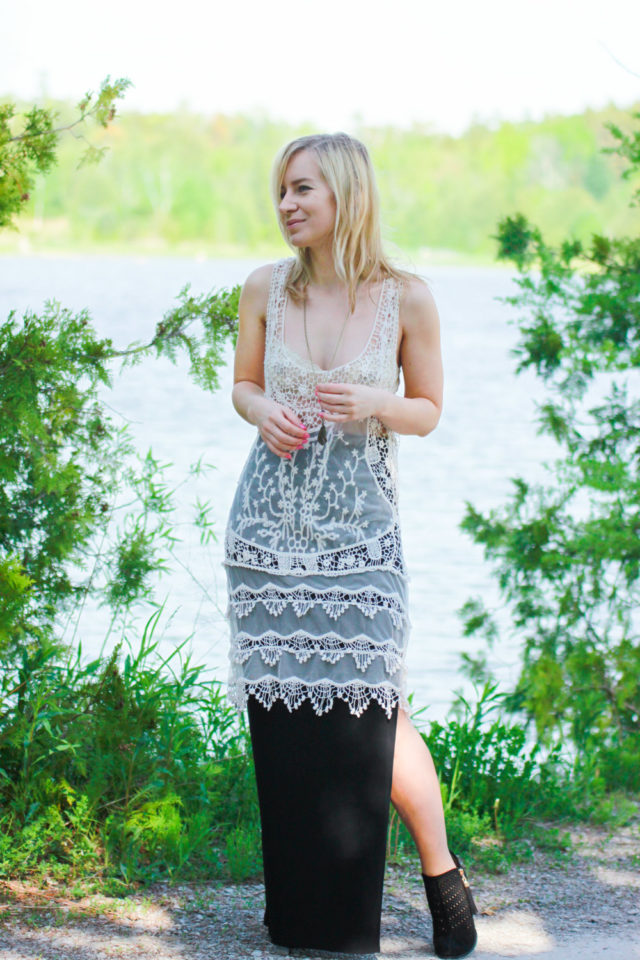 If we're not in the city, chances are we're out galavanting a few hours north of the city. Chasing sunsets at dusk, stargazing at night, exploring trails and even at times catching the sunrise. If you had asked me a mere 5 years ago if I'd ever be doing this as part of a lifestyle – or even so much as exceeding the boundaries of Toronto, I'd look at you funny and probably make a face. But lo and behold here I am, forever changed by the experiences I've become accustomed to as a result of meeting the man I love. Now I actually yearn for the days when I can get out of the city and as far away from civilization as possible. Sometimes we just can't seem to get away far enough with the ever growing GTA boundaries. We like to wander. And we like to get lost. In nature.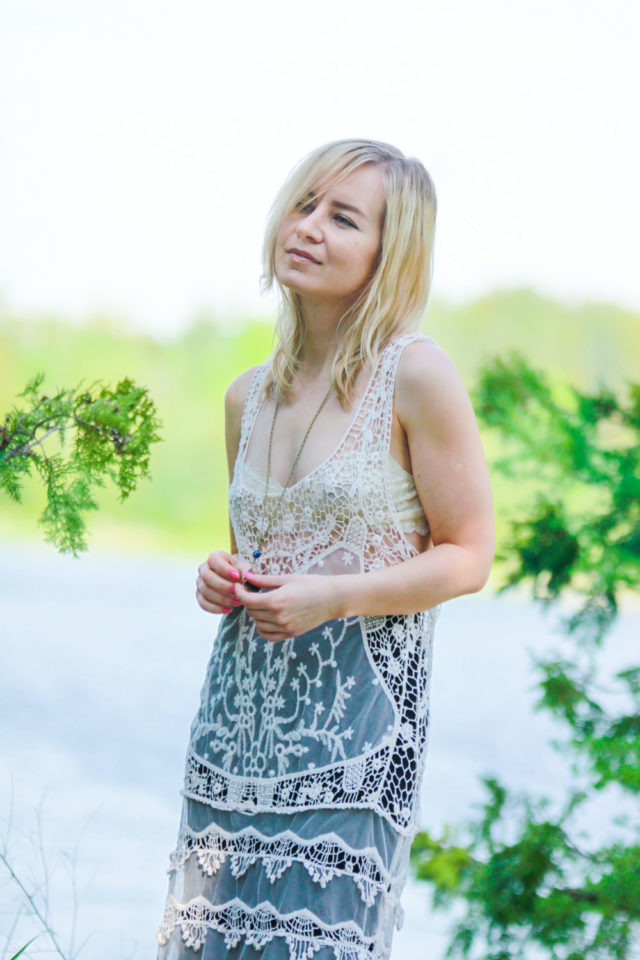 To speak a little on the outfit, I really wanted to wear this embroidered lace dress out but it's sheer, and since I wasn't styling a beach look I didn't thing bikini bottoms were appropriate. So I layered the dress over a side slit maxi paired with a bralette and ankle boots. The ankle boots have a really cute tassel on the zipper, it just doesn't show very well in the photos. I opted for minimal jewelry with a lapis detailed feather necklace and also brought along a cold shoulder top with fringed sleeves to layer overtop for the evening.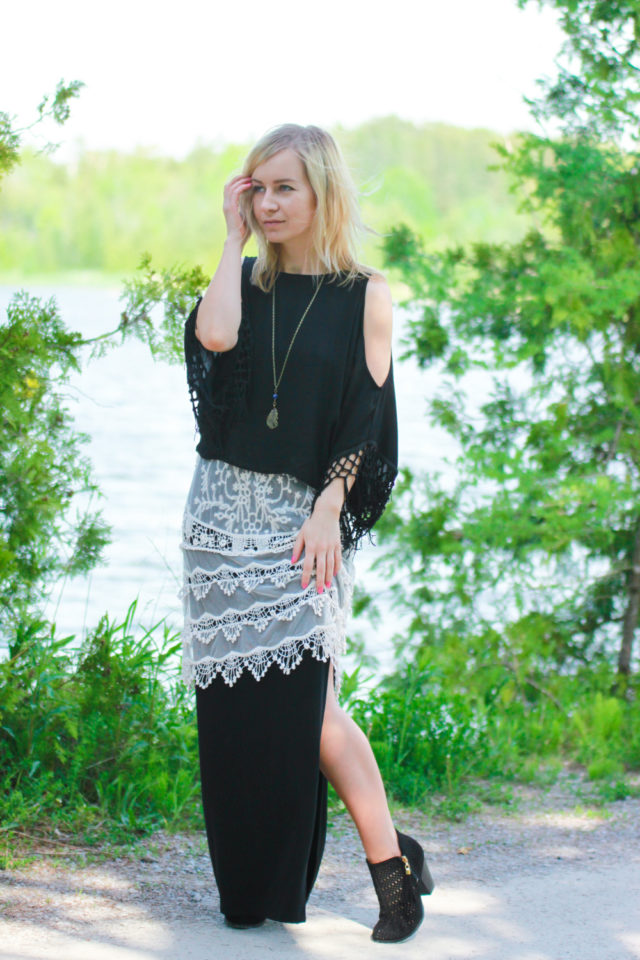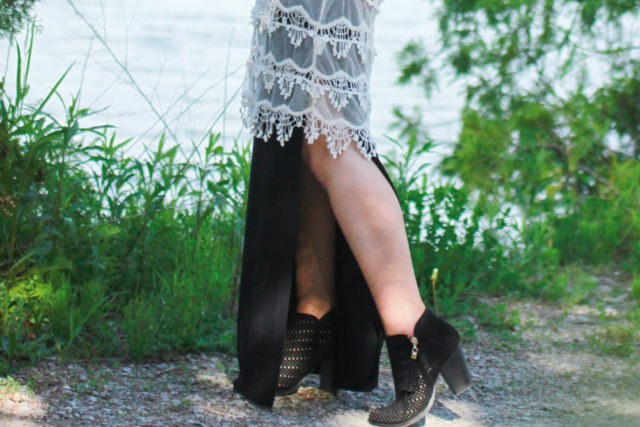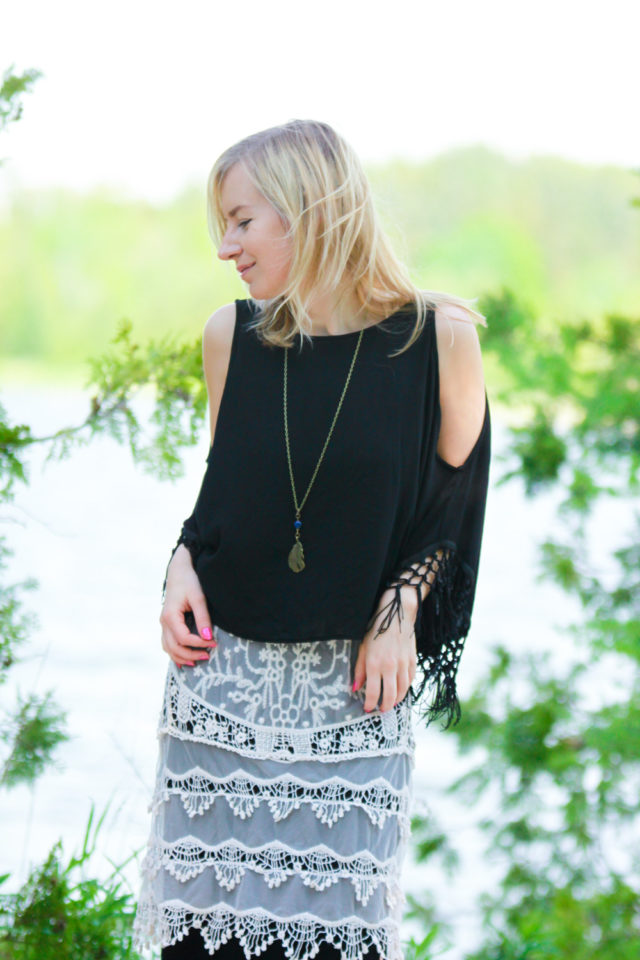 I find such peace and tranquility when I'm surrounded by nature, or even with the stillness and silence of the night – it helps me achieve equilibrium. More than ever I find myself trying to sustain as much plant life in the house as possible. Although I kill a lot more than I keep alive, sadly.
My fashion style has also become influenced by this lifestyle, leading to a lot of bohemian inspired looks that I otherwise would not have been into. Crystal pendant jewelry, bohemian rings and necklaces, and fringe detailing everywhere. There's just something liberating about a nomadic lifestyle and the look that comes with it. If I had it my way we'd be out living somewhere in the desert like a bunch of vagabonds. But I digress. It's all about being and being in the moment and that's when outfits like this will come to be. As inspired by getting lost and being free.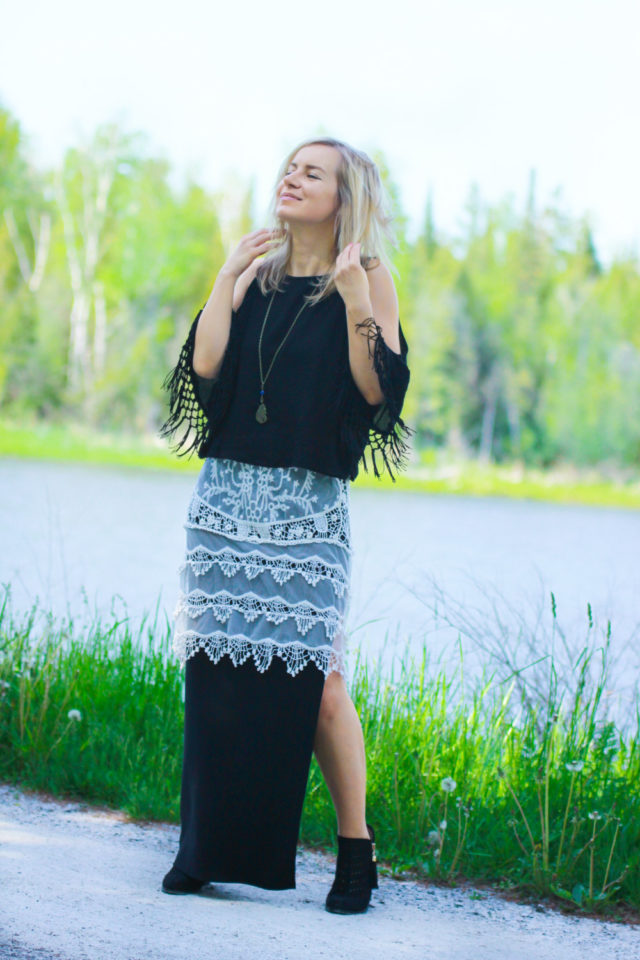 Top, dress, Winners. Skirt, Asos. Boots, Pink Martini (Lemonberry). Necklace c/o BEL Jewelry. 
With all that being said, the nomadic lifestyle has influenced our home as well. The more I draw and absorb from nature the more the landscape of my decor changes to impact that. I'd never thought I'd have a pink Himalayan salt rock in my home, nor get into crystals (for fear of coming out looking like Spencer Pratt) but I've come to really enjoy having them around. They help me create a real positive ambiance and environment. Especially when that salt rock is lit!
xo