So here we are. That awkward time of year when it's chilly in the mornings,  scorching hot during the day, and back to being cool at night. Made even more awkward by the summer to fall back to summer confusion. This time of year makes for a great opportunity to play around with layering, not only to look cute but also to keep up with the random weather changes.
The past few days have just been just beautiful. Oh so hot temperatures that had me digging out the cutoffs I had already stowed away for the season. Skirts and dresses also made an appearance, making it almost hard to believe that just a week prior I was wearing jeans and knit sweaters with the occasional lightweight jacket wondering where summer had gone.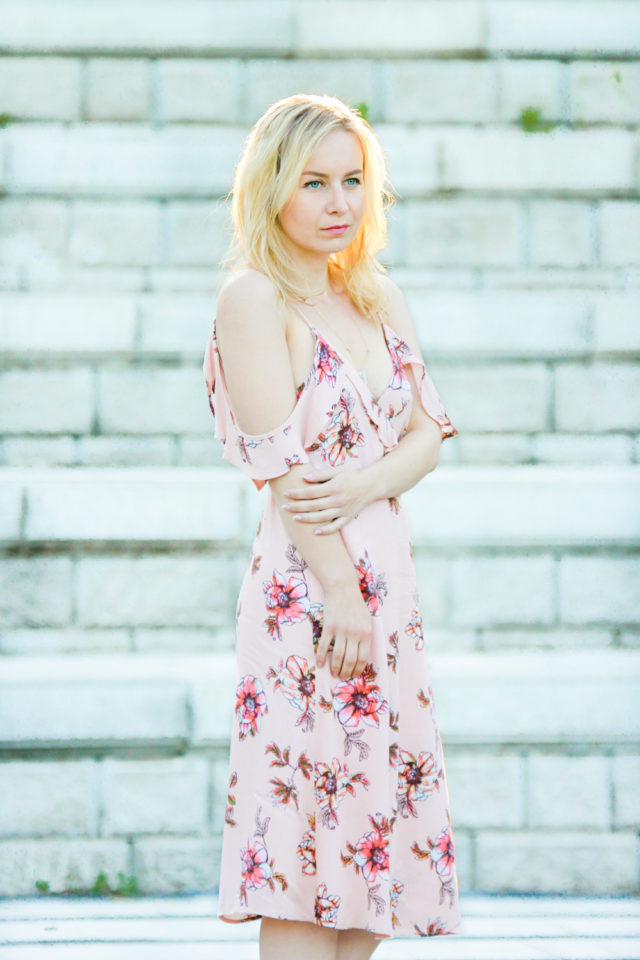 This summer to fall transitional period is a great time to play around with different layers and textures, to create unique dimensional looks. While shopping for some pieces to add to my transitional summer to fall wardrobe at Dixie Outlet Mall, I spotted this gorgeous blush pink dress. The light romantic floral print on a tie wrap silhouette had me – the ruffle sleeves were just a bonus. And it was only $16 (65% off the original price). The longer cut works really well with an ankle boot making this a perfect Fall dress.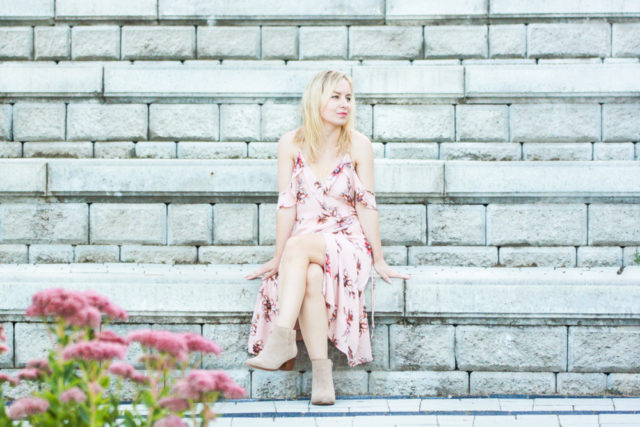 The first layering option I wanted with a dress like this was some sort of knit throw, but I immediately decided against that when I spotted this Elie Tahari knit vest. A knit vest will still provide warmth on a cooler night without covering up the gorgeous ruffle sleeve detailing of the dress, as cardigans or throws would. I did try both options at the store and covering up the sleeves really detracted from the dress. I was secretly relieved that the vest worked out better as I could already think of other really cute layering options for it.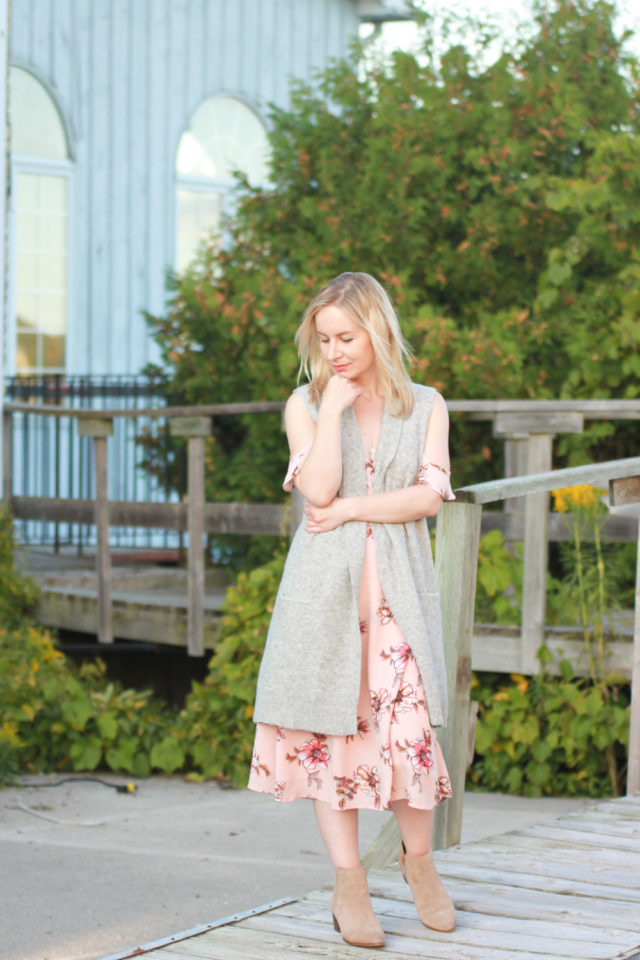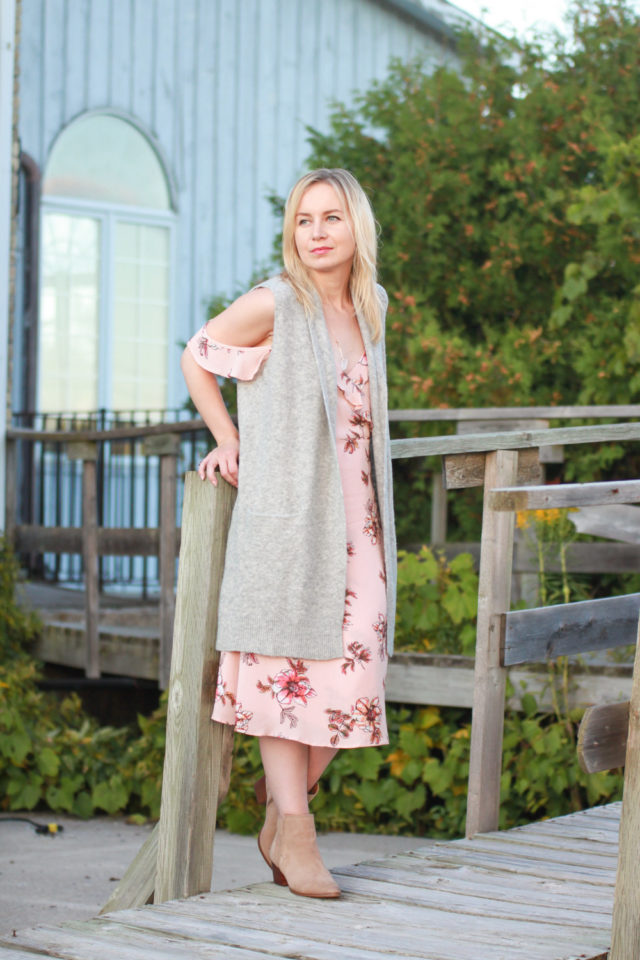 A classic black biker jacket was my third layering option, and I chose fabric over leather simply because I wanted a lightweight option for warmer Autumn days. Leather jackets are great but tend to get hot and stuffy when it's hot out, yet a fabric version can feel more cool and offer more breathability.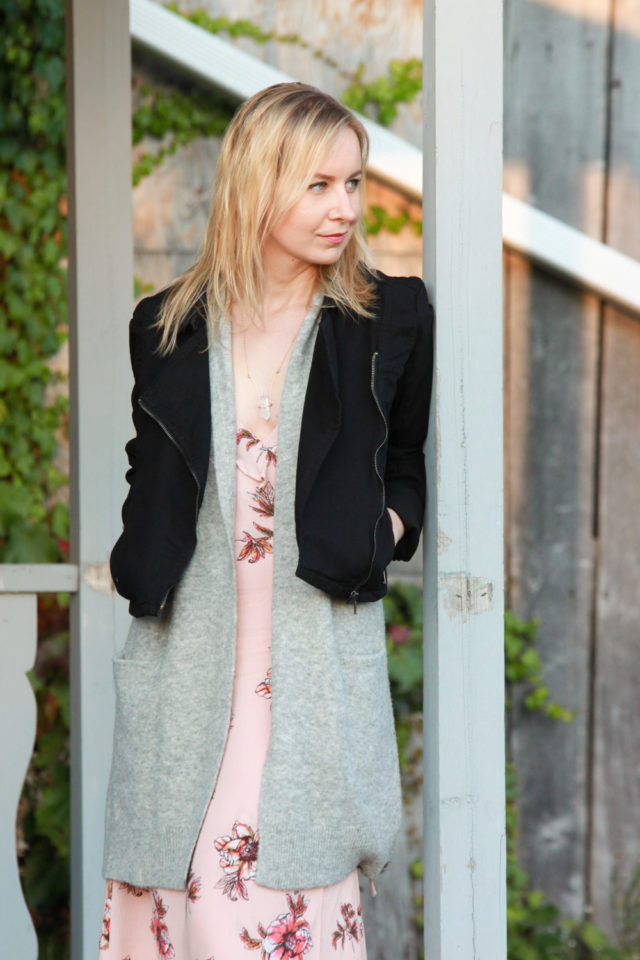 To complete the look I wanted a neutral ankle boot in a warmer tone. The Aldo Shoes at Dixie Outlet Mall never disappoints and I picked up these suede ankle boots for $50 (regular price $110). I've already worn the boots a few times this weekend and they've proven to be the perfect summer to fall transitional wardrobe addition.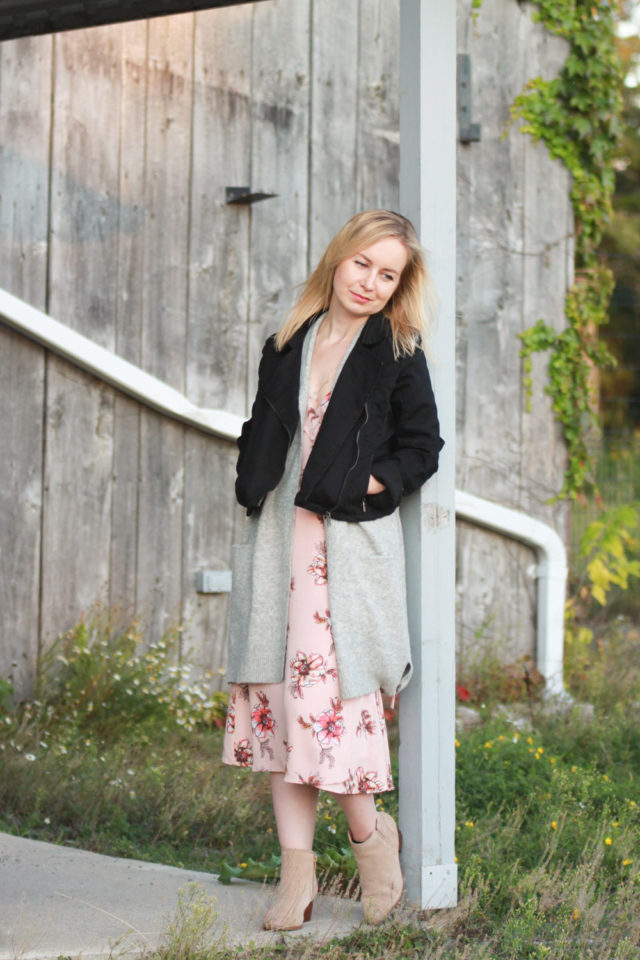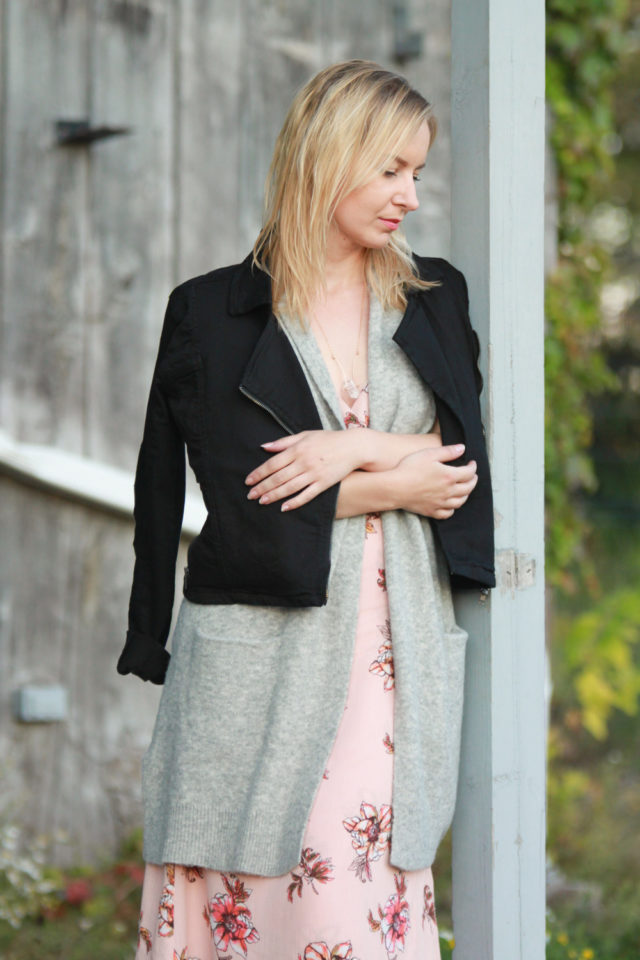 Elodie dress, Tahari vest, Suko Jeans jacket, Winners c/o Dixie Mall. Shoes, Aldo c/o Dixie Mall. Necklace, Enclave Gems. 
If you really adore summer dresses and want to continue wearing them into the Fall, consider adding some layers like I have in this look. A knit vest or biker jacket can offer great layering options and serve as basics for your transitional summer to fall wardrobe. Would love to hear what your transitional summer to fall wardrobe pieces are, let me know in the comments!
Wishing you a great start to the week!