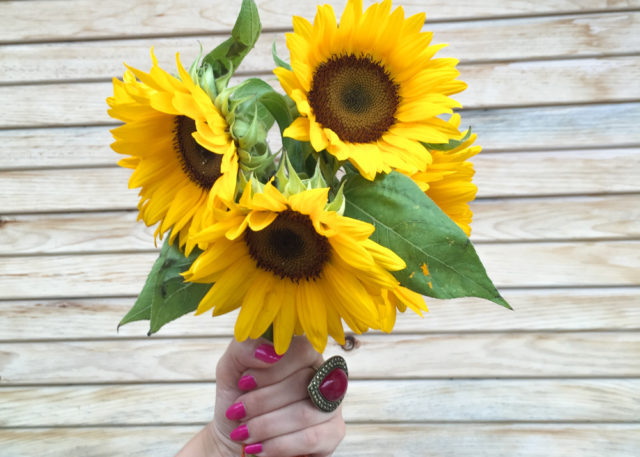 With the Fall season almost in full swing and winter just around the corner, us Canadian gals need to up our beauty routines to adapt to the harsh(er) climate. While I wish I lived in California and could avoid winter altogether – I don't. So I just gotta suck it up and prepare as best as I can.
In this post I've rounded up a few of my current faves for transitioning beauty and skincare from summer to fall. So…grab a PSL, sit back and have a read.
All I can say about this LOVEFRESH hand and body lotion is that it smells divine. I purchased this lotion at Lemonberry a little while ago, but boy was it hard to choose between all the other scents they had! All of them smelled lovely and I eventually settled on the Pear. Bonus about the brand is that they are a Toronto-based luxury line of fun and natural beauty products. The body lotion is formulated without parabens and is petroleum free. And did I mention it smells unbelievably yummy?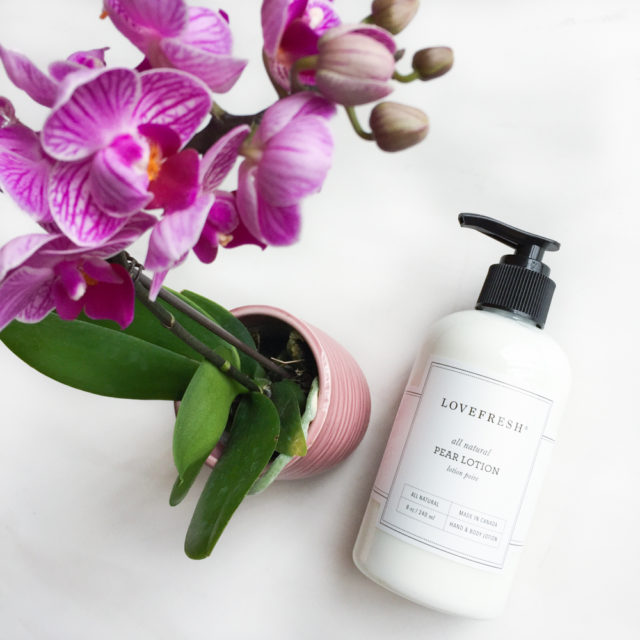 One thing you may not know about me is that I was an avid sun woshipper. From a young age I developed an obsession with tanned skin. For years I would bake out in the sun all day long, and then hit tanning booths in the winter for regular tan upkeep. However as much as I loved my tan there came a time when I couldn't ignore the health risks associated with UVA/UVB exposure any longer – guess wisdom does come with age. And so I quit the tanning beds cold turkey.
It was tough. Tough because once my natural summer tan faded I couldn't stand the pale skin I was left with. Self tanners have become a crucial part of transitioning beauty and skincare from summer to fall as I find it necessary to fake my tan during the winter months. This obsession lead to trying different self tanners and common issues seemed to be: colour too orangey/looks artificial, the tan doesn't last long (1-2 days) and of course, the apparent streaking and blotches you get stuck with if you don't apply the self tanner evenly.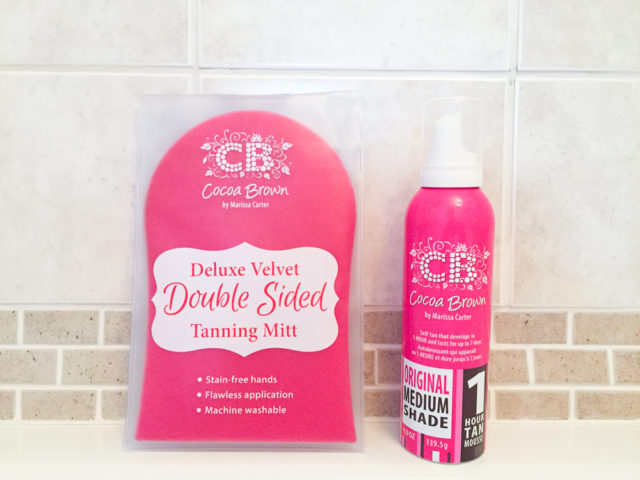 I was recently introduced to Cocoa Brown through a PR sample. Cocoa Brown just launched in Canada and is the world's first 1-hour tan, designed by celebrity make up artist Marissa Carter. Results are said to last up to 7 days and I was very excited to try this self tanner as I have never used a "wash off" formula with an application mitt before. As excited as I was, I was also a bit nervous because self tanners can be unforgiving and no one wants a dark patch or streak on them for 7 days. But I was up for the challenge with potential results far outweighing the risks.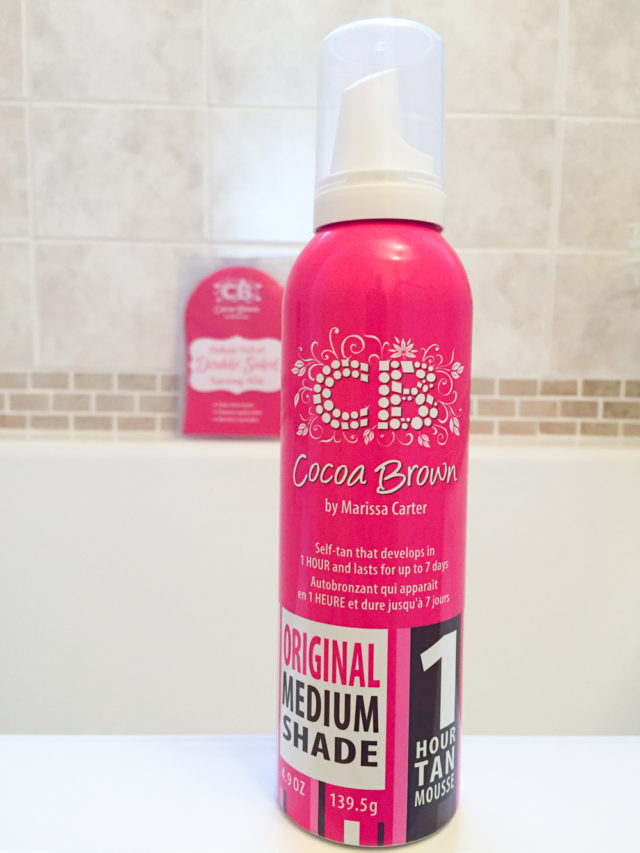 The application was amazing. The self tanning mousse went on effortlessly and is tinted so that one can see exactly where they are applying the product, allowing even distribution. The double-sided velvet mitt makes the application essentially fool proof and quick to execute. The mousse also absorbs very quickly allowing one to put their clothes back on almost right after application.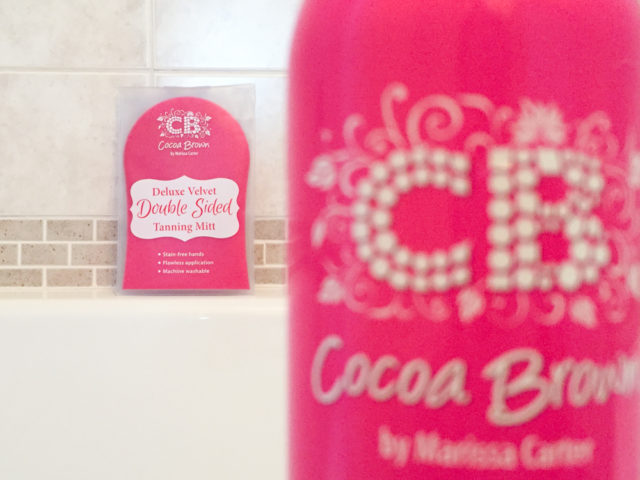 Like clockwork, within 1 hour I had a tan. The product can be taken off after 1 hour and will still continue to work, or one can opt to keep it on for 3 hours for the deepest tan. Of course I did the 3 hours. Once the self tanning mousse was absorbed into the skin it didn't really come off on my clothes too much. I put on house clothes and did some chores until my 3 hours was up.
Now I have to admit, watching some of the colour run down the drain in the shower was a bit disappointing, but this was not the actual self tanner, only the tinted colour that aides in the application. (Just mentioning this so that you know what to expect.) I was trying the "lightest" shade, Original Medium, and I am sure that for the average person this would have been sufficient tan. However, only because of how dark I'm used to tanning I went for a second application the very next day!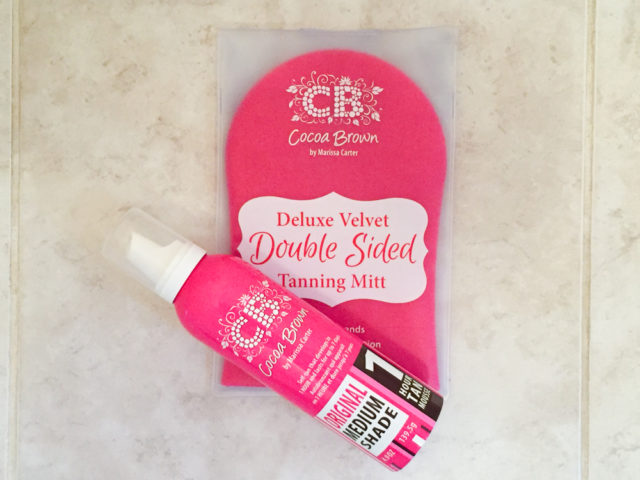 After 2 applications I had achieved the deep tan I was looking for. Most importantly of note is how the colour turned out. No orangey fake tan colour, no streaks, all even coverage, and it looked like a natural tan. No self tanner has ever given me that real "fake" tan look before. And honestly that mitt….completely even coverage! The colour lasted up to a week, and no word of a lie, I don't think I can go back to the stuff I was using before. Once I use up this bottle, I'll be going out and buying a bottle of Cocoa Brown – just one shade darker.
With the onset of colder temperatures and wind chills one of the first differences I notice is how dried out my face becomes. It actually gets to the point where I feel no amount of moisturizer will ever stop the flaking, which is where an exfoliating scrub comes in hand. I've used the Ole Henriksen walnut scrub a few times and it worked wonders to exfoliate my dry skin. This one is actually 2-in-1 so you can skip the cleanser and get straight down to business with the walnut scrub. It contains walnut powder, ginseng and chamomile extracts which work to leave you with a radiant complexion.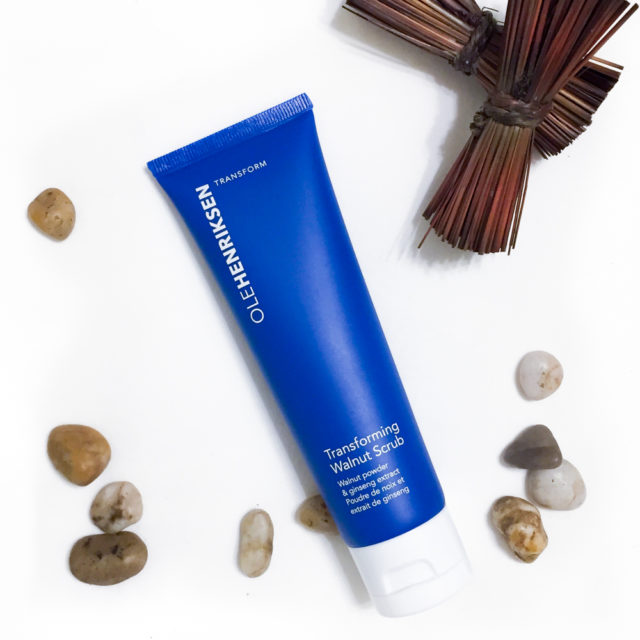 Another necessary ritual for transitioning beauty and skincare from summer to fall are nail care products. As someone who gave up playing guitar in favour of keeping long nails – I take this stuff seriously. Nails tend to become brittle when exposed to harsher climates and the only way to deal is by using products designed to help. Sally Hansen launched a 'Rehab' line with just that in mind, and was kind enough to send me some samples to try.
The Rehab line offers intense care for severely damanged, dry and dehydrated nails and cuticles. 3 products are available to target specific trouble areas:
Moisture Rehab: Intense care for severely dry and dehydrated nails and cuticles
Nail Rehab: Intense care for severely damaged nails
Cuticle Rehab: Helps to restore severely dry, ragged cuticles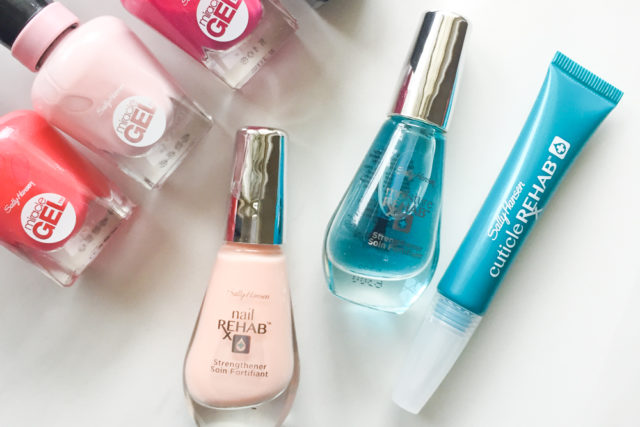 All three worked really well to bring moisture back into my nails and especially the cuticle beds. Since using them I've noticed less breakage, my nails seem stronger and overall look healthier.
I would love to hear some of the changes you experience during the summer to fall shift along with products that help you deal. Let me know below!
xo