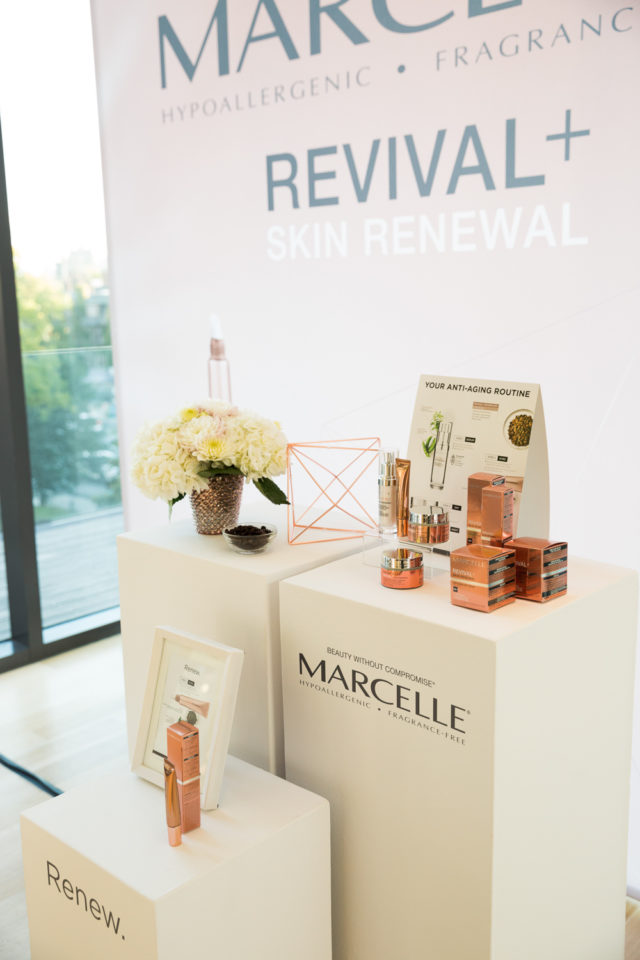 A few weeks ago I attended the Marcelle Revival + Skin Renewal launch event and got to leave home with samples from the new line. As someone in their early 30's I am no stranger to the importance of taking care of one's skin preventatively in order to combat the onset of signs of aging. Years ago I was advised by a nurse who was well versed on skincare that one shouldn't wait for the onset of fine lines and wrinkles to start an anti-aging regiment. Everything she said made sense as I had already begun to notice a degradation of elasticity, firmness and most noticeably of all – hydration, so further prevention seemed like a great idea.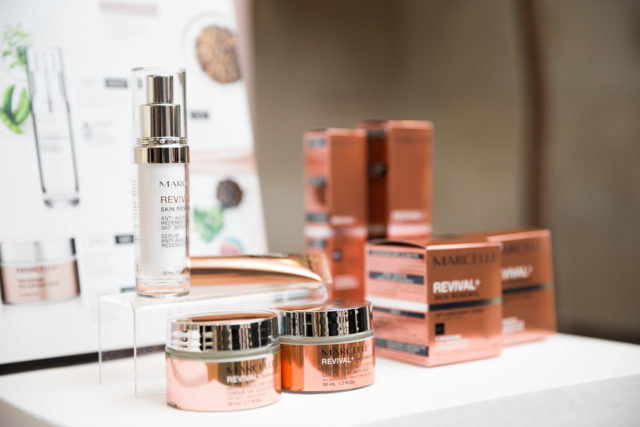 The Marcelle event was very well put together with displays of the Revival + Skin Renewal anti-aging products set up throughout the space. I had the opportunity to speak with one of the beauty experts from Marcelle and got a little bit more in-depth info on the line. The entire Marcelle Revival + Skin Renewal line is paraben free, 100% hypoallergenic perfume free making it perfect for sensitive skin and made in Canada (yaay!).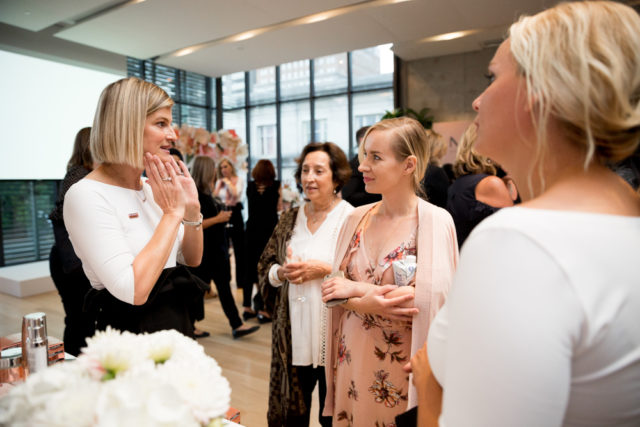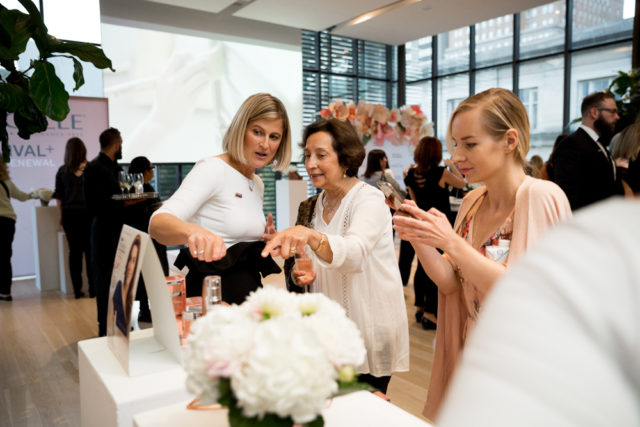 Now before I get a little more into the product I thought I'd circle back to the preventative maintenance. While this line is geared more so for a 45+ age group, whenever it makes sense  I'll slip in a few anti-aging products here and there into my beauty care lineup for just that preventative reason. Or to fight the occasional fine line. If I have to be perfectly honest, for a couple of years now I have been using an anti-aging under eye cream regularly. Unfortunately I know a few girls that are younger than me who have already developed crow's feet and seeing as how I don't have any I'm going to assume I'm doing something right and don't plan to stop using it.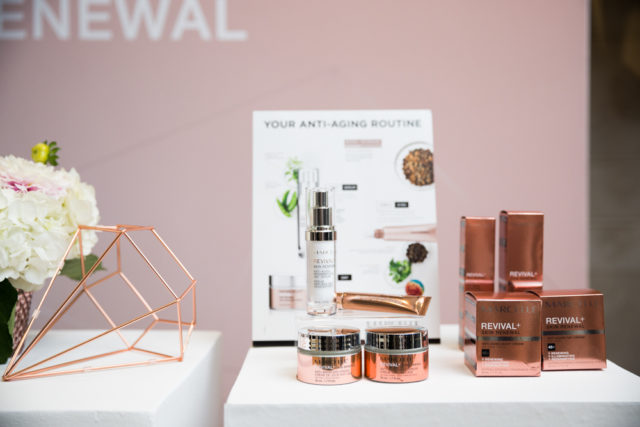 I always appreciate a line that incorporates natural ingredients and Marcelle did just that. All of the products contain chicory root extract which improves cell renewal for radiant and denser skin. Marjoram extract has been included in the 360˚  serum to refine and redefine contours as well as pea extract to visibly reduce dark spots.
The Eye Contour Care is especially a favourite with its ceramic applicator. It contains caffeine to improve microcirculation of blood vessels and reduce puffiness. Para cress extract has also been added to the eye contour care to stimulate cell renewal.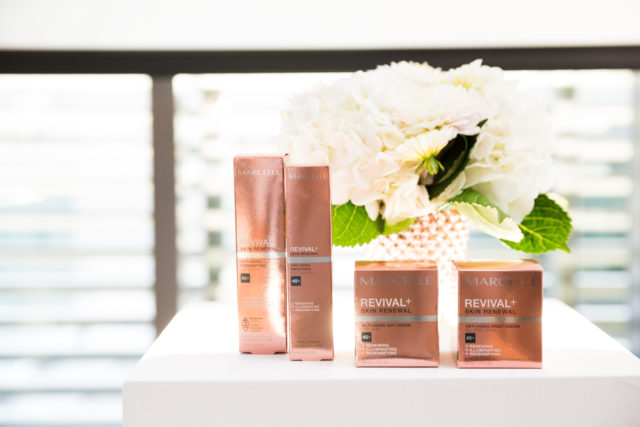 The line consists of an anti-aging day cream (which also comes in a SPF and dry skin version), night cream, serum and the eye contour. These Revival + Skin Renewal products are formulated to promote skin renewal, restore density and firmness and to provide more youthful radiant skin for anyone who could benefit from an anti-aging line.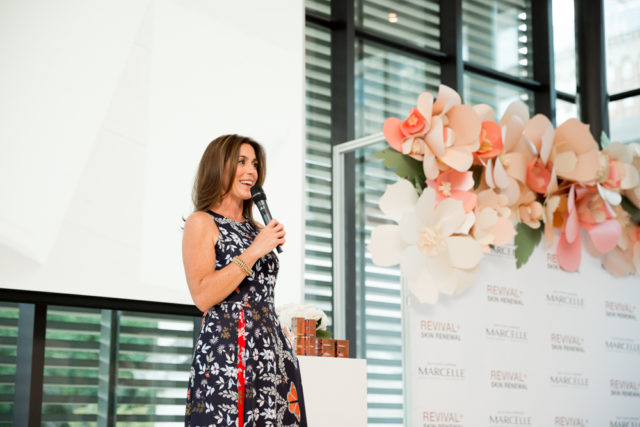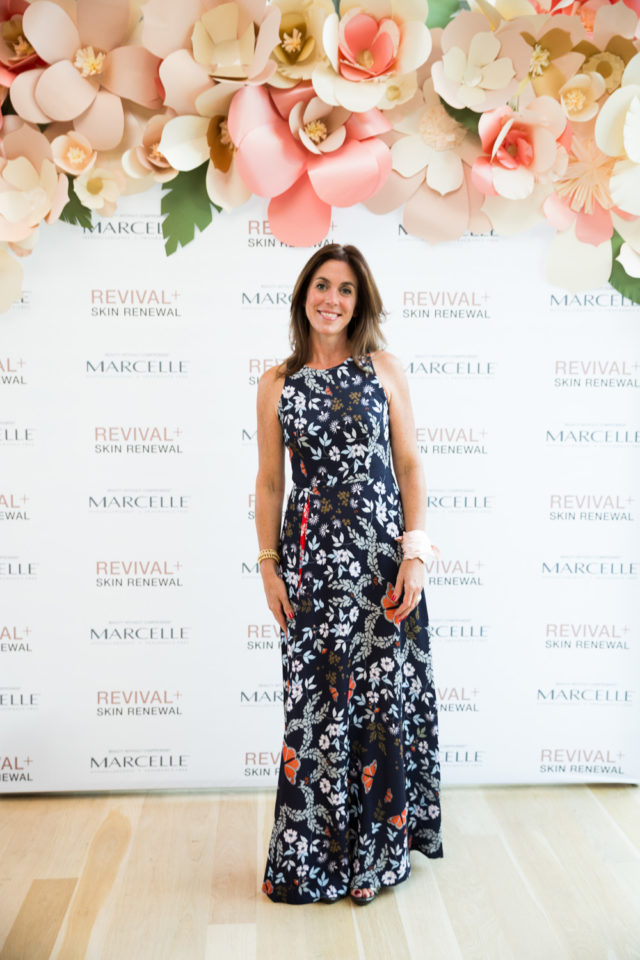 Photos credits: Kitty Holland
The highlight of the night was getting to meet Sarah Richardson from HGTV and hearing her speak about the Marcelle Revival + Skin Renewal line as brand ambassador. Perfect timing too as lately when I visit my parents we've been watching Sarah Off The Grid. Such an inspiring woman and it was great to hear her speak about her life and relationship with Marcelle.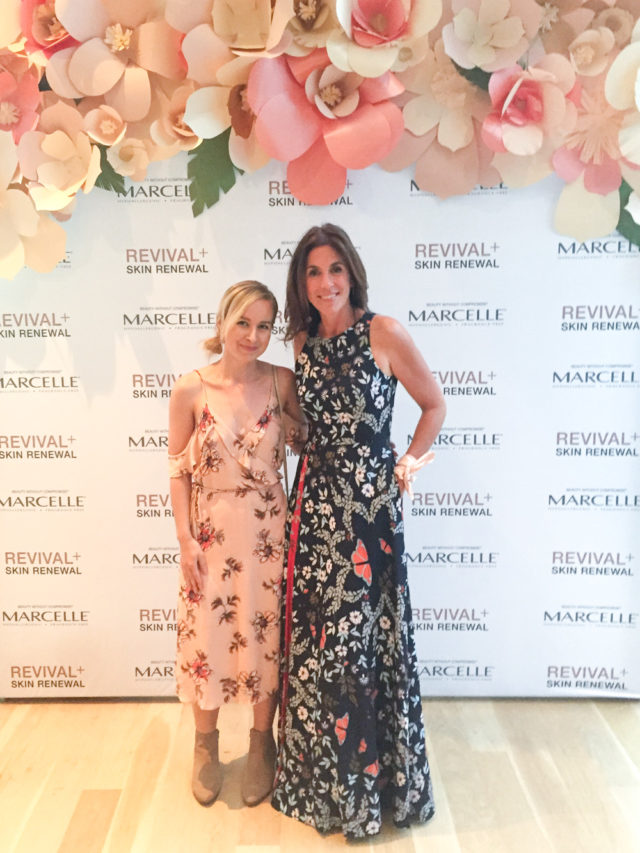 xo