Ah, good ol' Canadian winters. At best they're frigid, at worst we're living in a constant snowstorm. And dressing cute in the winter ain't easy. As much as you may want to wear your mini skirt with over the knee boots, sometimes it's just too damn cold. Well what if you have to go somewhere and you don't necessarily want to look like a hobo either? Enter the maxi skirt. My new best friend for the cold winter months. While they are perfect for that transitional spring/fall weather, maxi skirts are great for winter when worn right.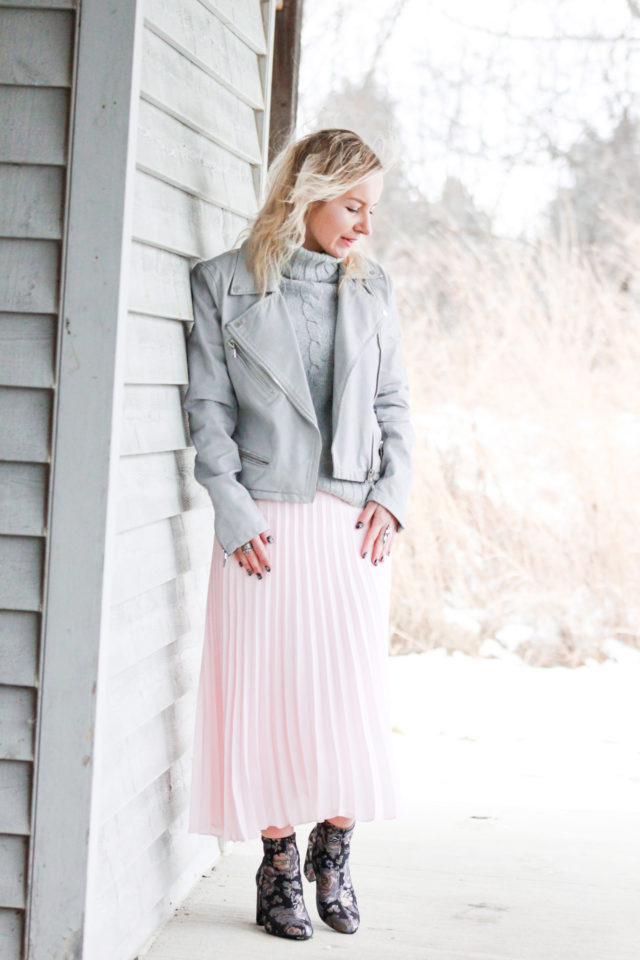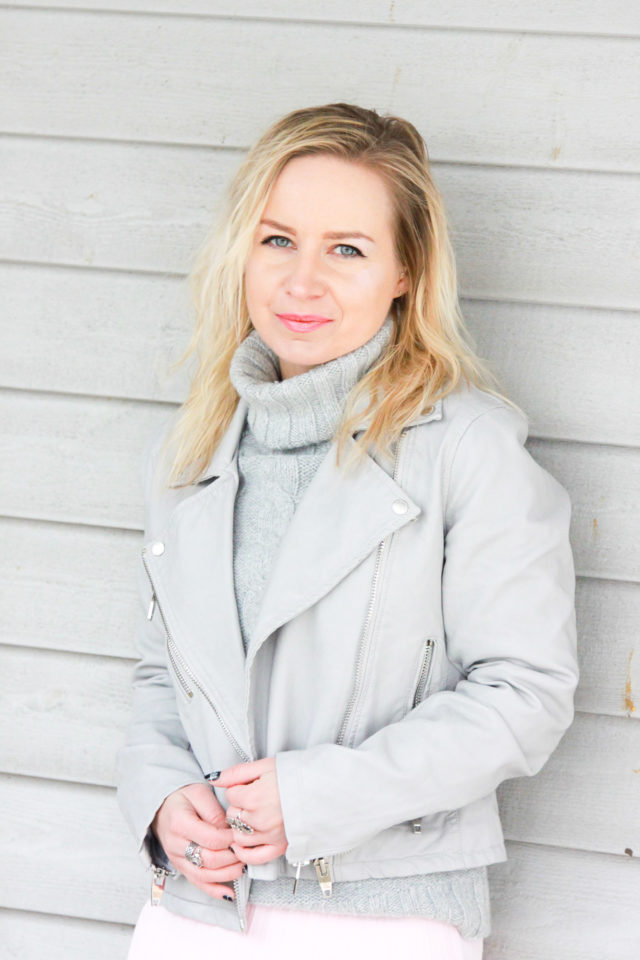 Being on the hunt for a bubble gum pink pleated maxi skirt for some time now I eventually settled for this blush pink one instead. And of course right at the end of the fall season is when I find the perfect pink pleated skirt while at Saks Off 5th. I bought the skirt anyways with the intention of wearing it when the weather warms up. But at the same time I wanted to wear it now. So I had to winterize the look.
While I'm sure you can tell from the photos that it was pretty cold out, I'm guessing you can't see the thick (and oh so warm) leggings I'm wearing underneath. This is exactly why maxi skirts are great for winter wear. The longer hemline will conceal the leggings.
Lighter coloured leggings will work best with translucent fabric. Also, try to stay away from really bulky leggings as these might show through. Opt for  warmer (or even insulated) leggings and you can wear even the flimsiest summer or fall maxi in the winter. All the while staying warm, and most importantly, on trend.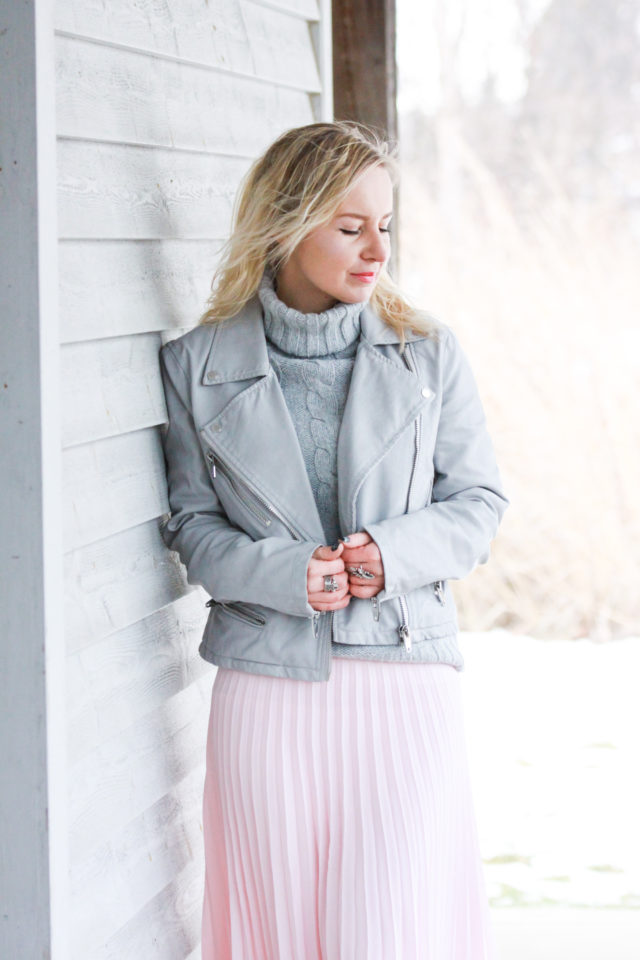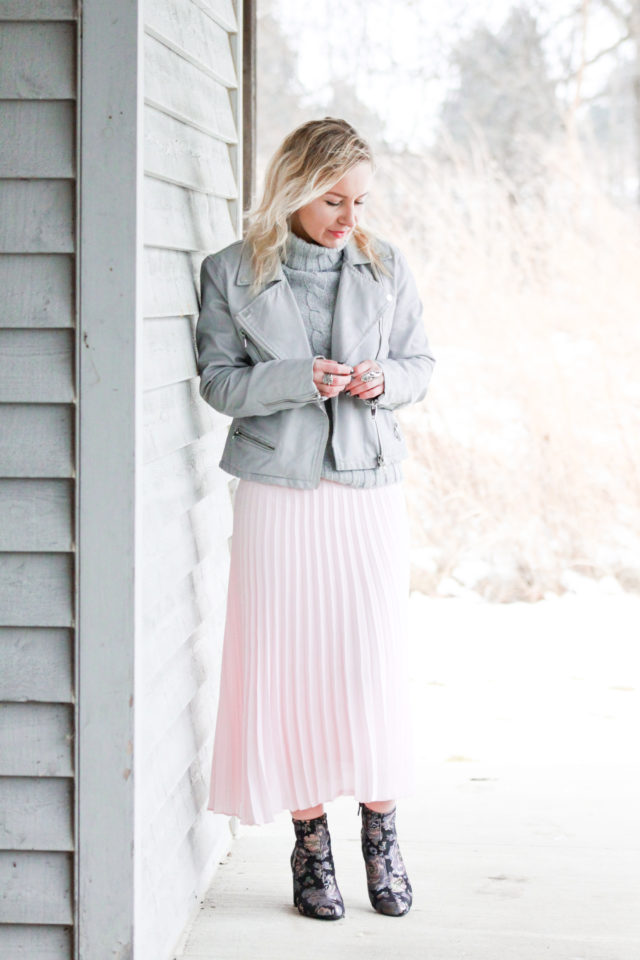 If you don't care about exposing your leggings the look can also be worn with sneakers. Personally, I prefer to hide my leggings with ankle boots. And sometimes I'll layer on a really thick pair of socks just because I can. Here I opted to style my pink maxi skirt with a floral print pair of boots to compliment the delicate femininity of the skirt. Am I wearing lumberjack socks underneath?? Maybe.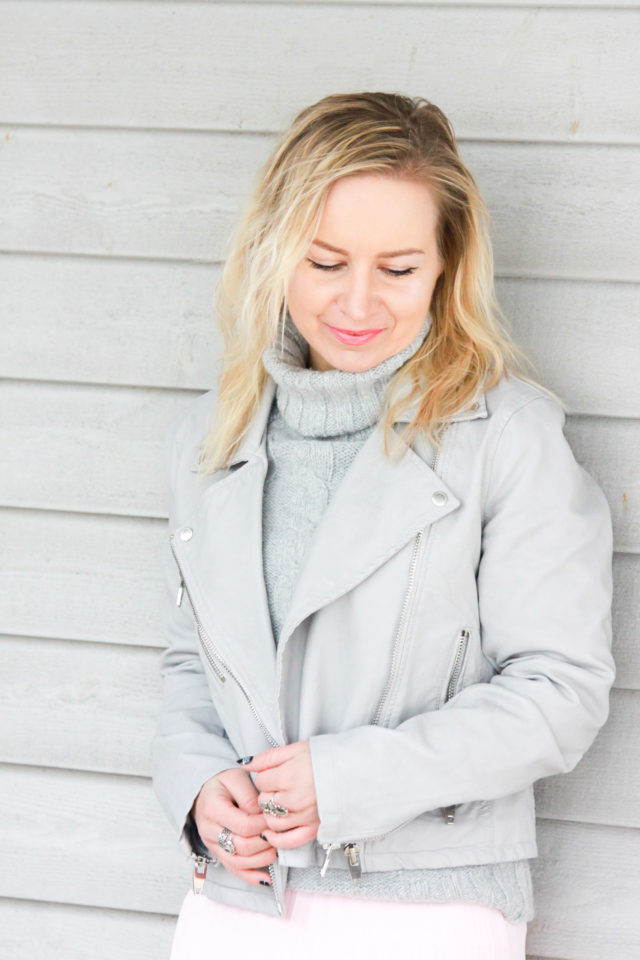 Turtleneck, Gap. Jacket, Blank NYC c/o Nordstrom. Skirt, Saks (Saks Off 5th). Boots, Kenneth Cole (Saks Off 5th). 
So when you get bored of wearing jeans in the winter, or it's too cold for your over the knee and mini skirt combo, give the maxi skirt a try. Just remember to keep your legs warm either with leggings or over the knee socks. Do you have any tips for wearing spring/fall pieces in the winter? Let me know in the comments below.
Stay warm friends! xo