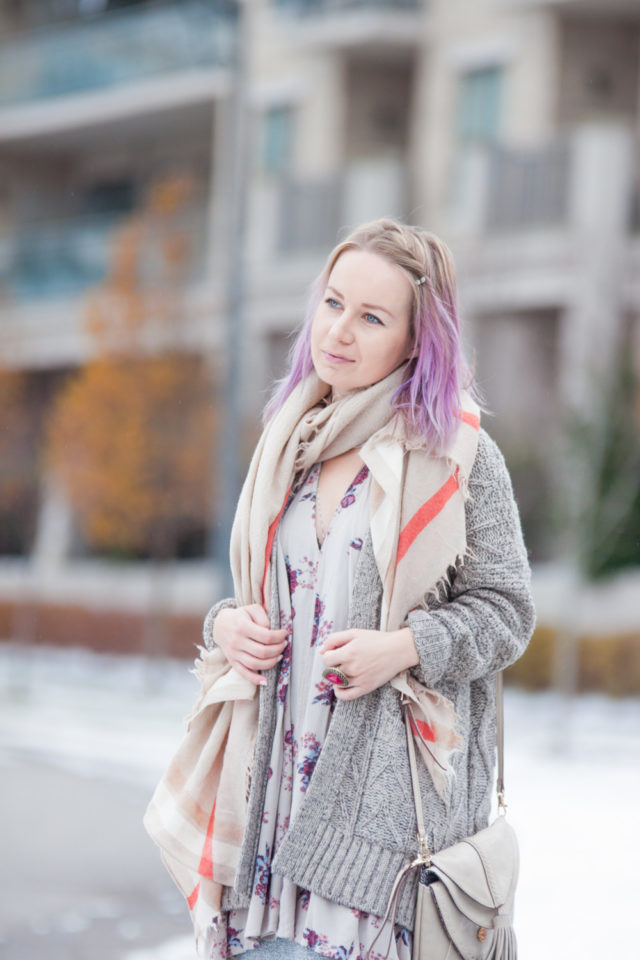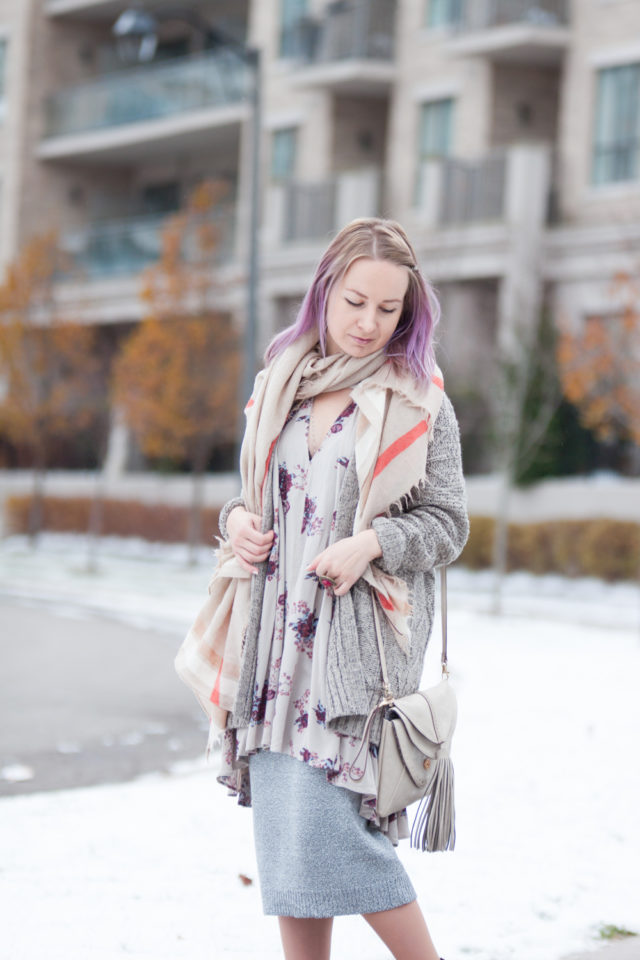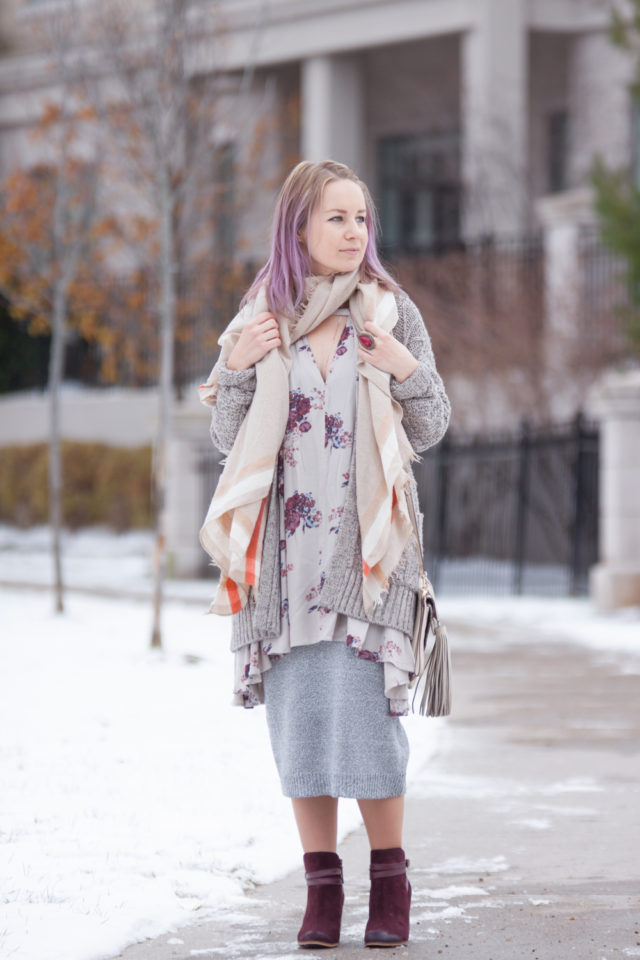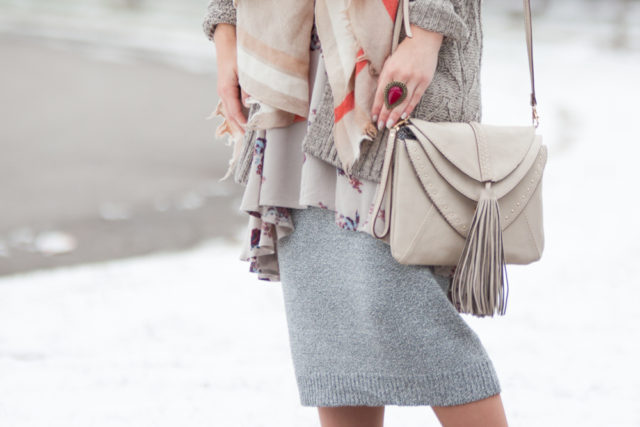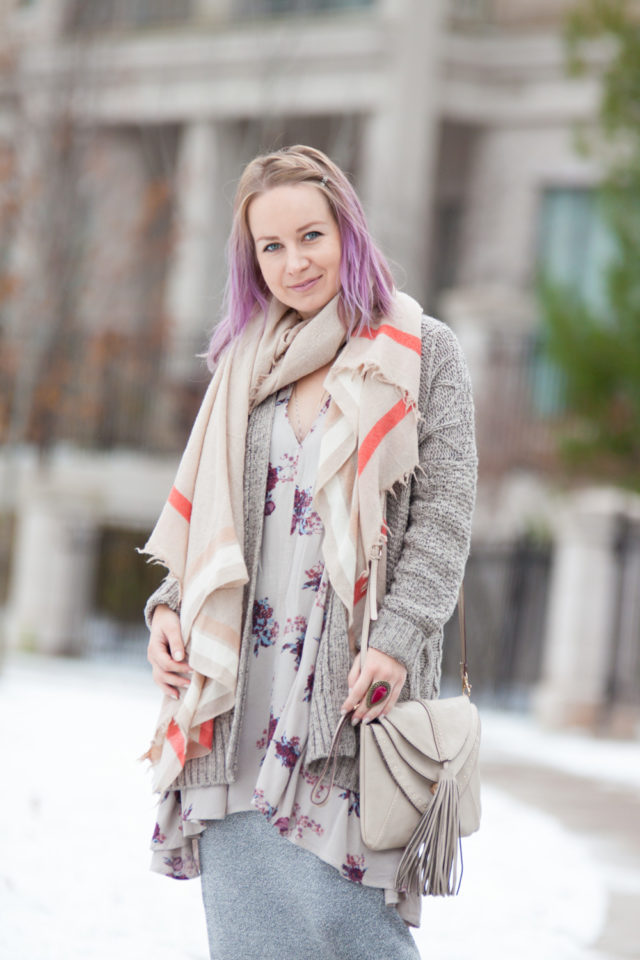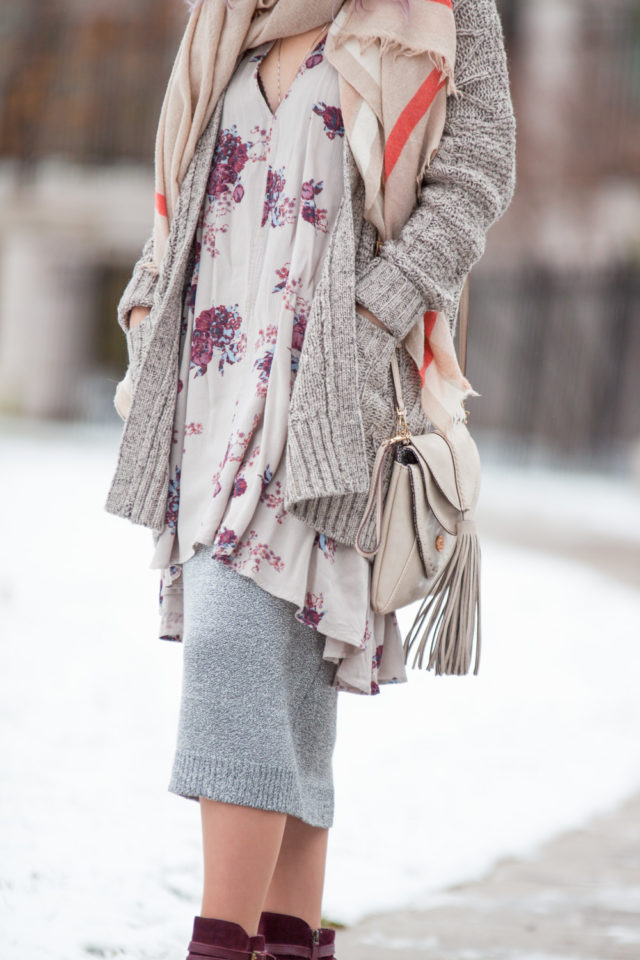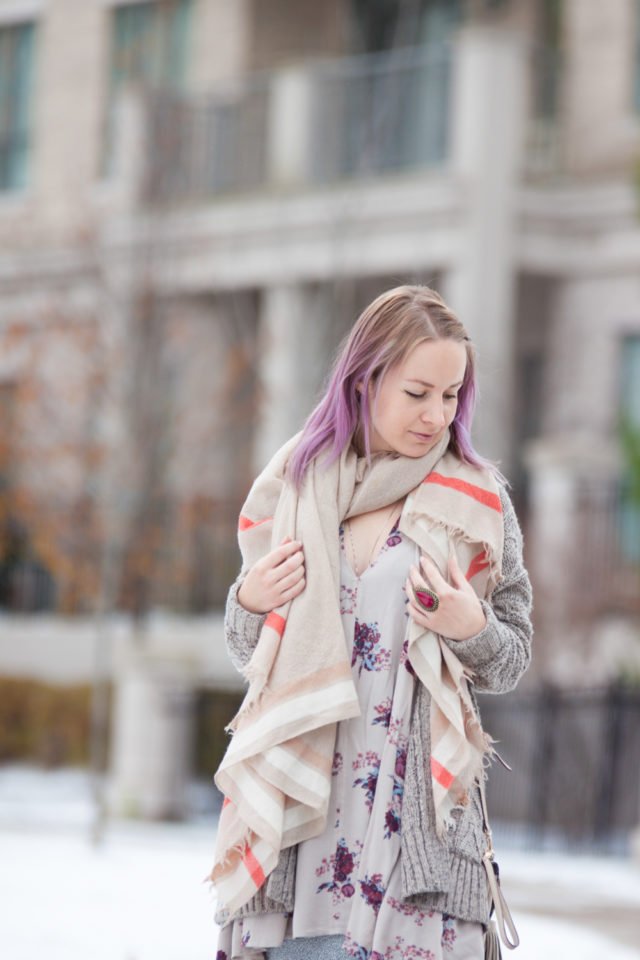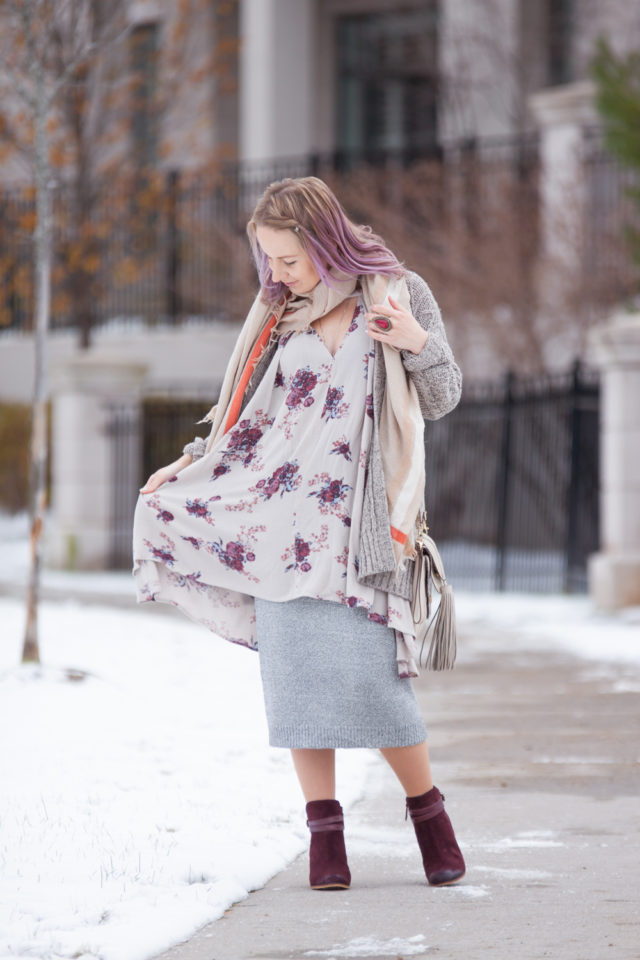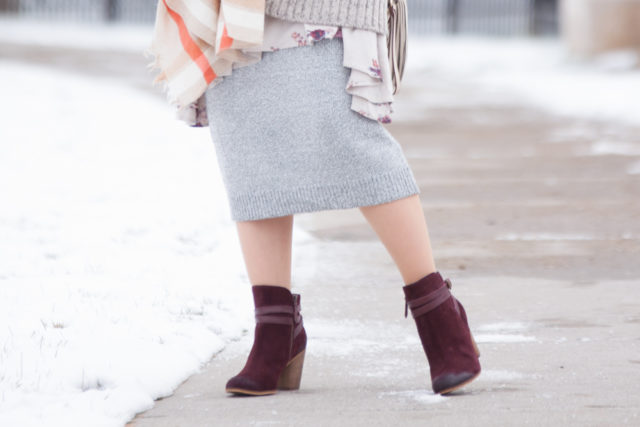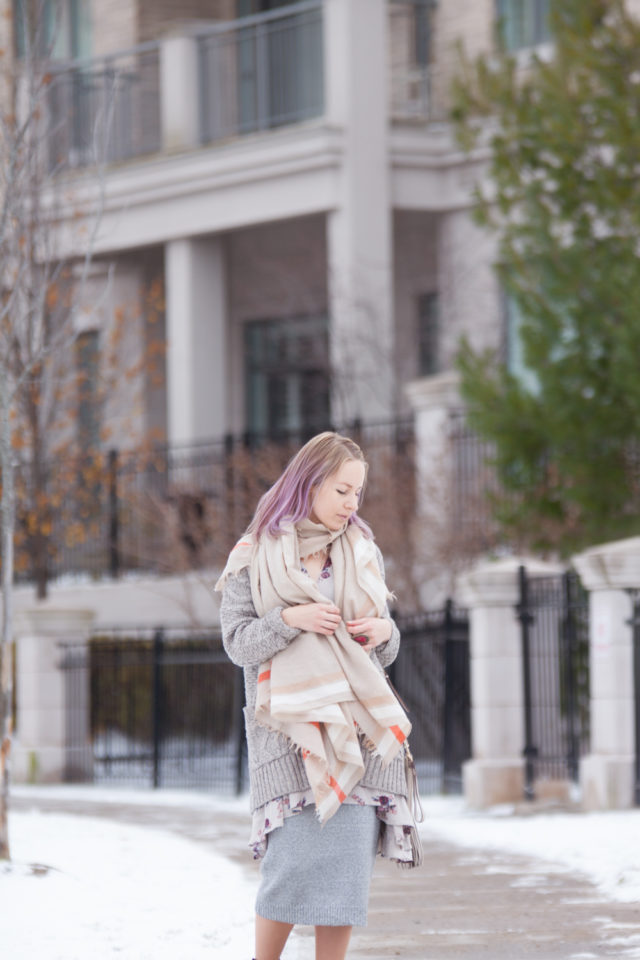 Cardigan (Madewell), Dress (Free People), Skirt (Halogen), Scarf (rag & bone), Bag (Steven), Boots (BP) c/o Nordstrom.
Ring, Samantha Wills.
'Tis the season for warehouse sales to start popping up and I've always been a bit intrigued whether or not the sales they boast are legit. Well this year I got to see what these sales are all about first hand after being invited to attend a VIP shopping night for the Nordstrom warehouse sale and I must say I was impressed.
If you follow me on Insta you would have seen some of the endless shoe tables, racks with flowly floral prints and other designer goodness that spread the sales floor on my IG stories. With so many different pieces to choose from, I decided to focus on creating just one fall/winter outfit and started off with a chunky knit Madewell cardigan and Free People tunic/dress. I realize that a no-brainer with those two pieces would have been leggings as bottoms, but I wanted to do something different. While walking around looking for tights I came across this Halogen knit maxi skirt and knew it was not only perfect for my look, but also as a staple in my closet for the rest of this Fall/Winter season. I feel I should also mention that I found a light grey biker jacket (that although it didn't make this post) will be a great substitute for the cardigan in this look on a colder day.
Happy with these items I headed towards the checkout. Being a total newbie to these warehouse sales I was content with the handwritten prices overtop the crossed out printed ticket prices, only to find out that there was categorized pricing which overrode all the handwritten prices! Wait a minute…you mean to tell me that the $420 retail rag & bone scarf I'm holding, that has $56 handwritten on it, is really $15? Seriously? Someone pinch me, I must be dreaming. But no, I wasn't dreaming. I was standing in the middle of the Nordstrom warehouse sale and just when I thought things couldn't get any better they did. This applied to all my merchandise which suddenly extended my budget allowing me to complete the look with boots and a bag. 
So to recap…there is a massive selection of garments, not just women's but men's and kid's too, with sales ranging from 80% upwards to 95% off retail prices.
And if this is your first time, I've put together a few tips to help you along the way.
My Tips for Shopping a Warehouse Sale
💜Get there early. Not only will you avoid those long line ups, but chances are you'll get first dibs on some real goodies.
💜 If you see something you like, grab it. Even if you're not sure you want it. Because chances are, if you leave it, it will be gone by the time you come back for it.
💜 Be mindful of your space and stay focused. By that I mean you want to avoid the Sex and the City fight over a pair of boots scene, so keep your eye on the target and be aware of people that may get in front of you to snatch what you're going for…because sadly, these things can happen in real life.
💜 Wear comfortable shoes, you could potentially end up doing a lot of running up and down the sale floor and be prepared to stay for a while as you will have to go through every rack to find those hidden gems.
💜 If you don't see something in your size, don't get discouraged. The size you want may be sitting in a different area/rack marked a different size, so do a quick skim through other sized racks before giving up.
💜 And yes, the rumours about the fitting rooms are true – there are no fitting rooms. It's just one big room with mirrors throughout, separate areas for women's and men's. No privacy here, but hey I'm not complaining as I'm slipping into a $30 Free People dress that retails for $180.
💜 And most important of all – have fun!
So if you are in the Toronto or GTA/Mississauga area, I urge you to check this out. Even if you're not looking for anything for yourself, this would be a great place to pick up gifts for the holidays.
The Nordstrom warehouse sale through Style Democracy is on now and runs until Nov 27th at the International Centre.
Let me know what you buy if you end up going! xo