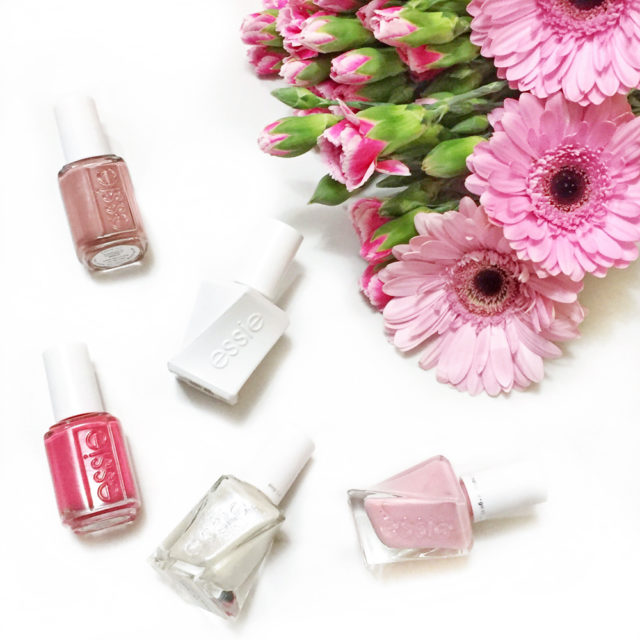 You may have noticed that my last few posts are focused on beauty. This is for two reasons, the first being I was fortunate to receive some samples of products that are coming out for spring, and secondly, it has been challenging to shoot outfit photos. Whether it be uncooperative weather or conflicts in availability with my photographer, outfit photos just weren't happening. But in a way it gave me the perfect opportunity to play around with some great products and share the reviews with you.
I think there's no greater joy in blogging than when bloggers get the opportunity to try new products from a line we already know and love. Case in point Essie nail polish. I've been using Essie nail polish throughout the years and probably should mention that just a few weeks before receiving these samples I had stocked up on a whole bunch of their bold colours. I especially love the durability of the top coat and the longevity in shine it gives my nails. I have never tried gels before so I was super excited to see what all the hype was about.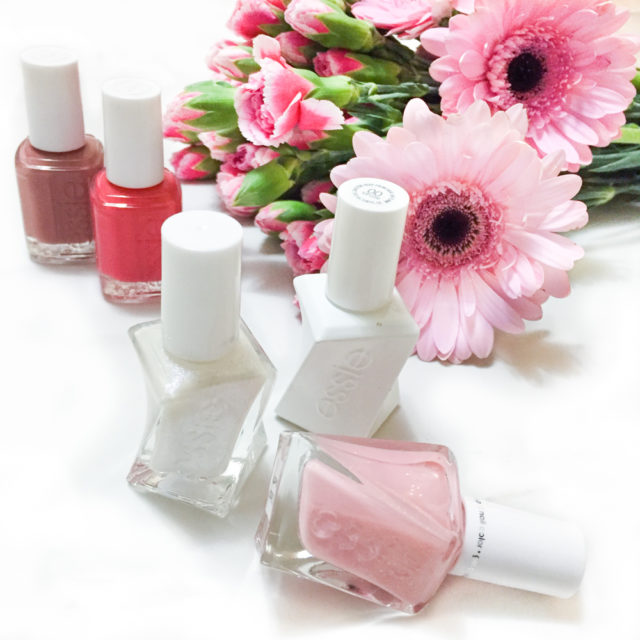 Aside from the fun new twirly bottle design, the soft and subtle girly shades from the Essie Gel Couture Bridal collection caught my eye. The colours I received from the line are Lace to the Altar and Blush-worthy, both right up my alley and with the cutest names. I love the blush pink shade (so hot this season!) but what's more exciting is that this nail polish is loaded with tiny translucent gold specks that create a pretty shimmering effect when on the nail.
Lace to the Altar is my fave because it has to be the prettiest shade of white I've seen, with a very subtle shimmer throughout. The effect is quite beautiful on and I found myself getting distracted staring at my nails throughout the day (bonus if you have a boring day job).
Using the gel polish was super easy, it is simply a 2-step process (no base coat or UV/LED lamp required) providing revolutionary long wear nail polish with just a few coats of the colour + top coat (white bottle pictured in the photos).
I was amazed, yes amazed, at the application of the gel couture polish. The brush is incredible – it is slightly larger than your typical polish brush, and it is tapered to provide full coverage in 1-2 strokes. Yes, you heard that right too; within 2 strokes I had perfectly applied polish on my nails. And that held up pretty well when painting my right hand too. This brush almost guarantees fool-proof application.
I must add that I have not used gel nail polishes before so I was a bit blown away when my nail polish was still intact 3 days later…4 days later… In fact, my nails looked pretty decent all week. From a durability standpoint, I was impressed. My nails take a daily beating and usually can't last past 2 day wear without chipping, but Essie was able to hold me down for a week.
As for the other non-gel colours, same quality you'd expect to receive from Essie in some really fun shades for this season! Have any of you tried gel nail polish before? Or even specifically Essie gel couture bridal line? Drop me a line and let me know your experience with them!
xo