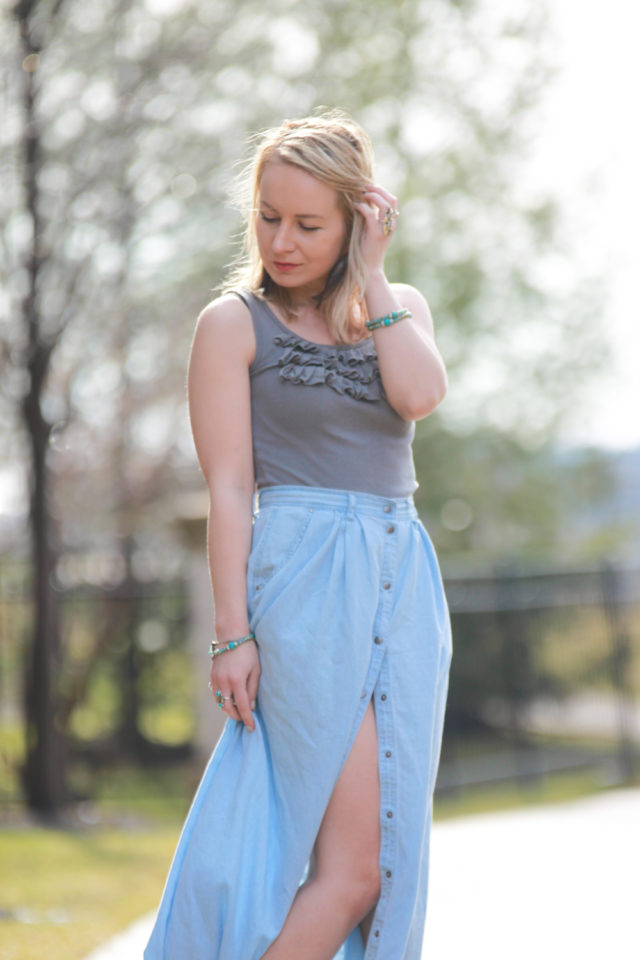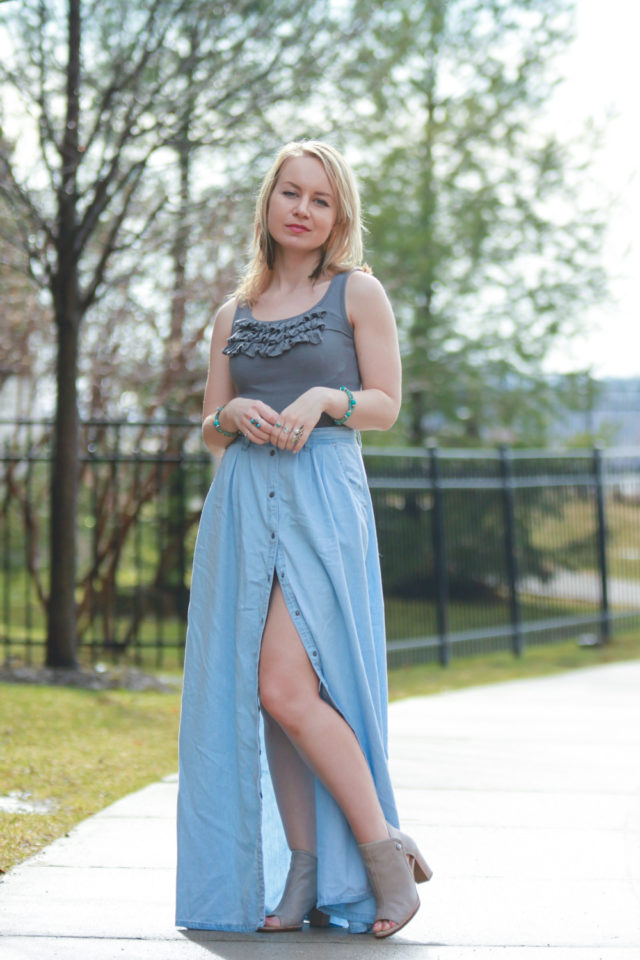 With festival season just around the corner (and 4 wicked concerts booked to date) I couldn't be more excited for summer. One item that was definitely lacking in my closet (which in my opinion is a festival season must): a chambray maxi skirt.
At first I wanted a maxi skirt simply for the fact that I do not own a lot of them. But then as I got thinking, I realized just how potentially useful this one could be. If you get cold as easily as me, you'll appreciate the button front detailing not only for being stylish, but to have the option to do up the buttons on a cool summer night. And of course wearing the maxi skirt unbuttoned on hot summer days.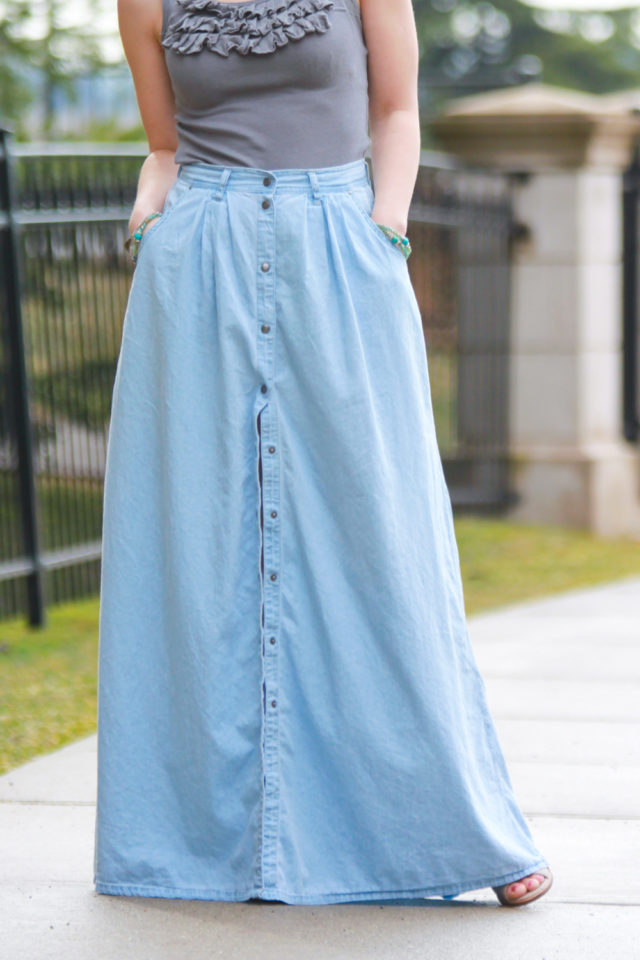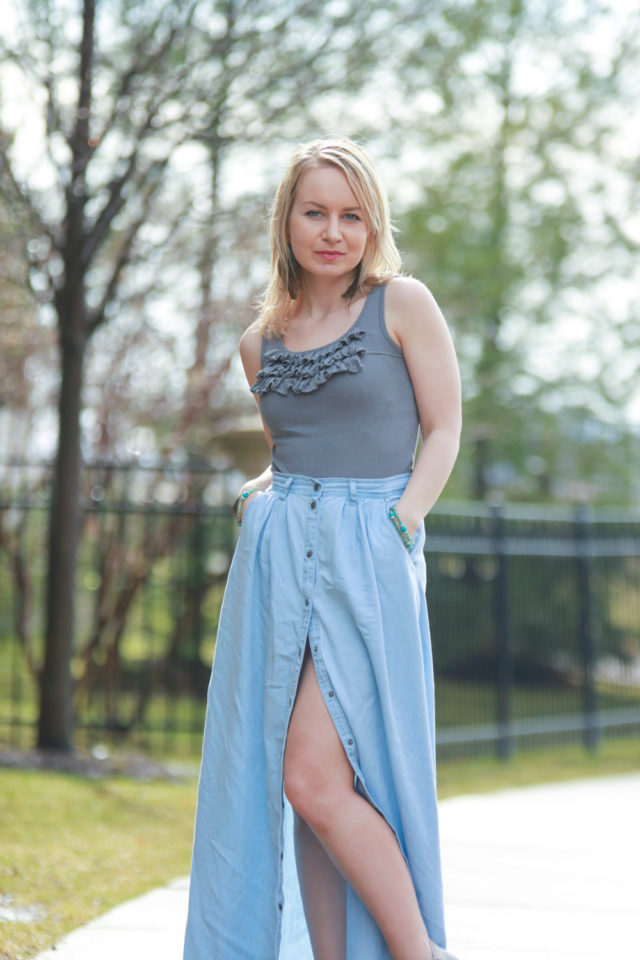 A chambray maxi skirt can easily be dressed down or up, and accessorized accordingly. For a more casual look, this skirt can be paired with sneakers or gladiators. I opted to dress mine up here (also because I'm really short and I needed every spare inch I could get for this maxi skirt).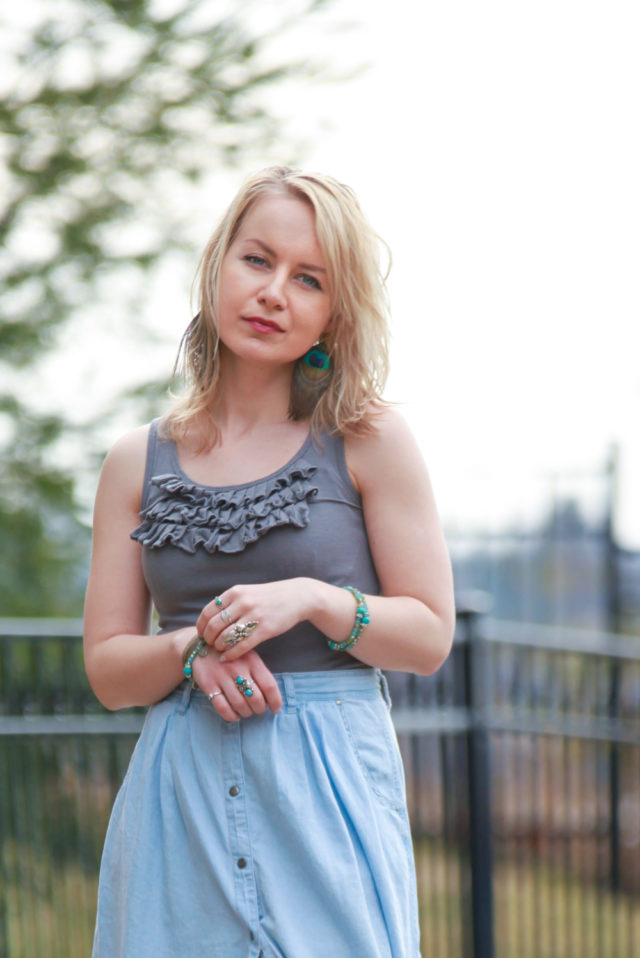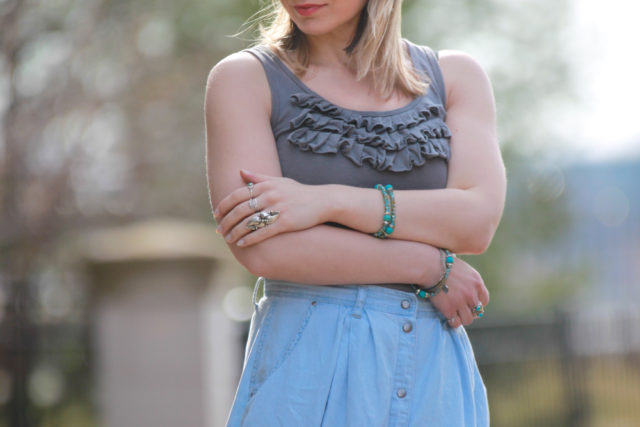 By adding bohemian styled accessories it gives the look a more festival kind of feel. My go to boho accents are feathers and lots, and lots of turquoise. Shoes are also really important, and will often steer the look to their style.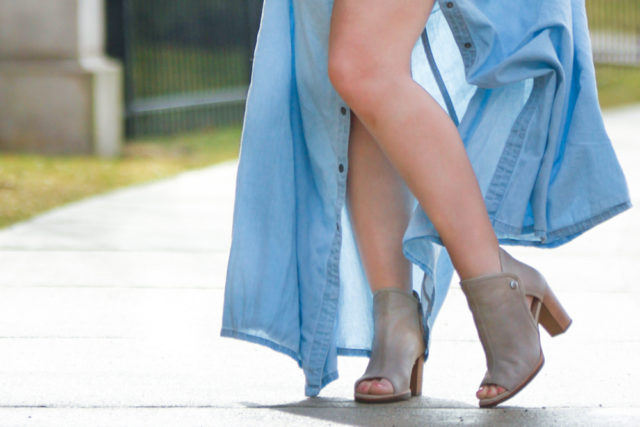 Speaking of shoes, any avid concert-goer knows just how important comfortable shoe are. Having said that, I still typically opt for a fashionable shoe for these types of outings, and usually settle on a cute flat or gladiator style sandal. But that was before I knew about Geox.
I recently learned about Geox through attending an event for an opening of one of their concept stores. Geox strives to create stylish products that enhance comfort through technical innovations, essentially creating a shoe that has style but is still comfortable. Having told myself a while ago that I was sick of buying cute but uncomfortable shoes, I made a silent vow to only go high quality shoe from here on out.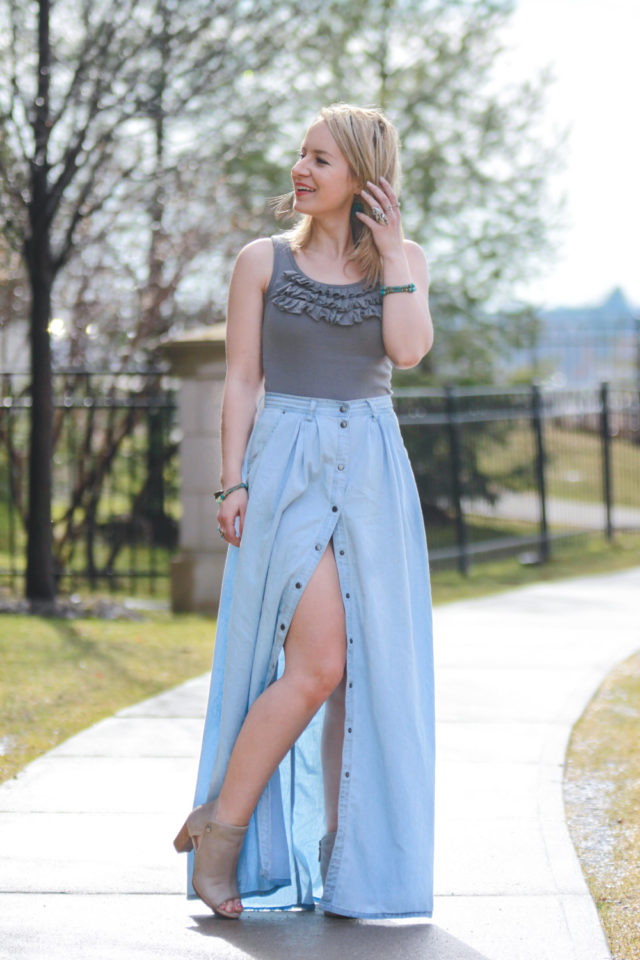 While walking the store I instantly spotted the Callie peep toe ankle boots and I knew they were the ones. I had made this decision before even trying them on, and after I did, I was convinced I'd be happy with them. They are extremely comfortable – and as a girl who grew up wearing stilettos, believe me when I tell you these shoes are ultra comfy. The insoles cushion your feet and have a memory foam so I doubt I'll have any issues standing up at a concert all day with these bad boys on.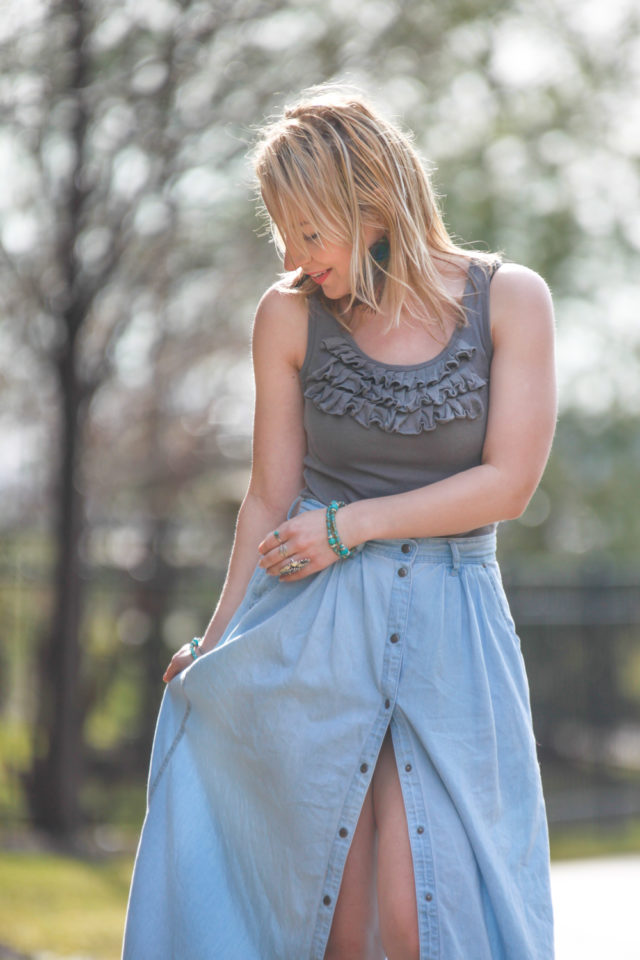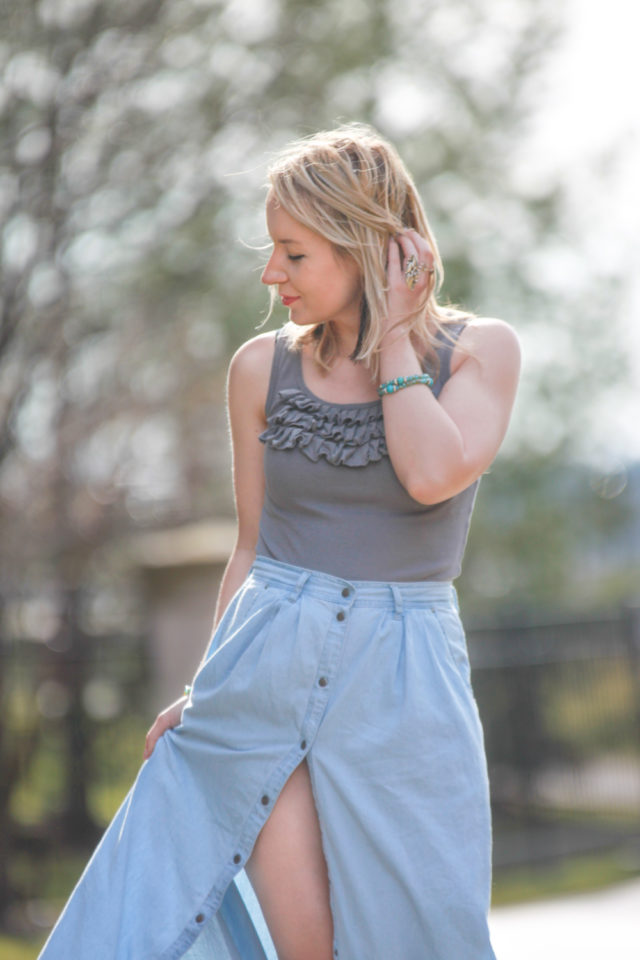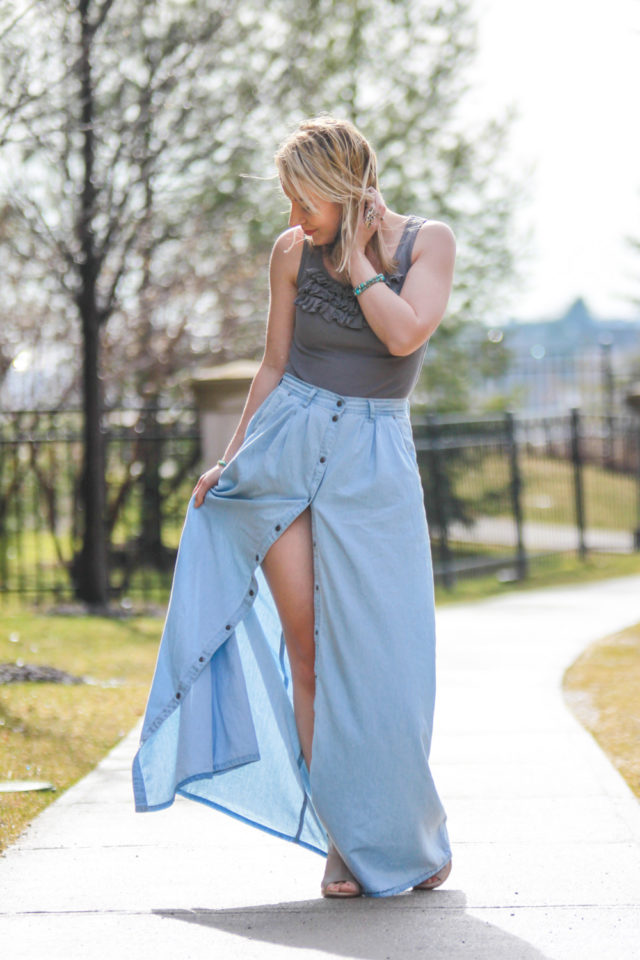 Top, Jacob. Skirt, here. Shoes c/o Geox. Bracelets c/o Pinkstix. Rings, Child of Wild.
One cute chambray maxi skirt later, paired with stylish (yet comfy) peep toe booties and boho accessories = festival ready. What are you wearing this festival season?
xo